ORLANDO — Disney World on Tuesday previewed the new Tron coaster at the Magic Kingdom, Tron Lightcycle / Run, which will open to the public on April 4.
At 10 acres, the new attraction is the largest expansion of the Magic Kingdom since New Fantasyland in 2012.
The attraction is based on the Tron science fiction films, which place digitized humans, or "Users," into a digital world, "the Grid," created by main character and computer programmer Kevin Flynn.
The Grid is populated by "Programs," digital beings who were created by humans writing computer code. Inside the Grid is the "Game Grid," where competitions take place, including on Lightcycles.
That's the premise of the new roller coaster: guests are members of Team Blue, racing high-speed Lightcycles through the Grid. To do so, they mount one-of-a-kind ride systems that enable them to kneel and lean forward on the cycles. They must run through eight "Energy Gates" to defeat a group of Programs known as Team Orange.
It is one of the fastest coasters in Disney parks. How fast?
"Fast," Josh Eisenhardt, a project planner with Walt Disney Imagineering, said with a laugh.
The coaster has both indoor and outdoor portions. The outdoor portions are covered by a canopy, and the ride can operate in rain.
Eisenhardt pointed out that not only is Tron the largest addition to the Magic Kingdom since New Fantasyland, but it's the park's first new coaster since the Seven Dwarfs Mine Train opened in 2014.
It brings a thrill factor to the Magic Kingdom, said Addison Hellier, an associate construction manager with Walt Disney Imagineering, but at the same time it is an attraction designed to attract families (it does have a 48-inch height requirement).
"It offers a level of thrill that's pretty elevated, and the fact that we can bring the entire family onto it is speaking to how we're advancing in our ride technologies and the ability to showcase that," Hellier said.
Without giving away any spoilers, Eisenhardt encouraged guests to pay attention to the details on the attraction, especially in the queue, for nods to the films. 
"Keep your eyes open," he said. "Keep your ears open."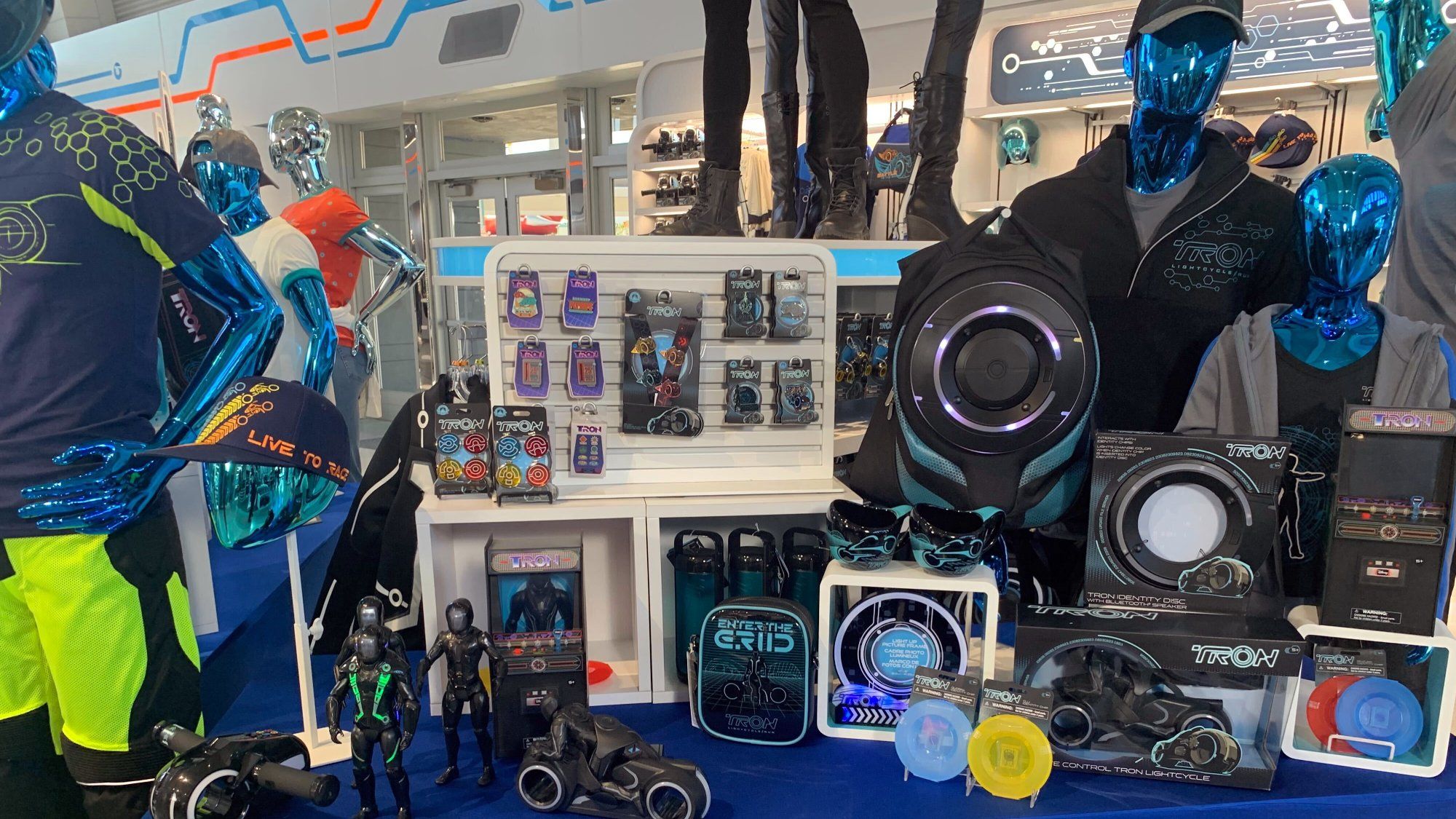 Build your own Tron action figure
Disney will also introduce a new food kiosk near Tron Lightcycle / Run. It's called Energy Bytes and serves Chinese dumplings, a nod to Shanghai Disney, home to the first Tron attraction. Energy Bytes also serves several desserts and cold brew coffee.
Specialty merchandise will also be for sale. In addition to racing-themed apparel and vintage-inspired toys, guests can purchase and customize Tron action figures.
Brand merchandising manager Lisa Melchiori described the Tron Identity Program: "This is where Users such as yourself can personalize your own Program and turn them into a customizable action figure."
Guests' facial and vocal recordings will be captured to make the action figures, and they can also choose between a variety of helmets and body types for their figures. It will take around 60 minutes for their "digitization" to be complete, Lisa Melchiori said, and their "Program" will be presented inside a Tron arcade-inspired cabinet box. 
Other Program chips will also be available based on characters from the film. The chips — whether a user's personalized chip or a character chip — can be used in a variety of pieces of merchandise, including an Identity Disk Backpack.
Source: Read Full Article