The January reopening of outbound traffic from China was the moment hotels, tour operators and tourism boards worldwide had long been waiting for.
Before Covid-19 halted international travel, China's 155 million international travelers in 2019 spent $255 billion, according to the UNWTO, making it the top nation in both visitor numbers and spend. 
And for the U.S., the importance of the China market couldn't be overstated. Despite being the third-largest overseas market by arrivals in 2019, it rose to No. 1 in spending: about 2.9 million visitors from China spent $15 billion in the U.S., according to the U.S. Travel Association. For comparison, that year the U.S. recorded 4.7 million travelers and $14.6 billion from its largest overseas market by arrivals, the U.K. 
China was also the last major tourism market to restart after the pandemic lockdowns, with strict quarantine and other re-entry restrictions effectively closing off travel as part of its zero-Covid policy. But on Jan. 8, China scrapped those rules, enabling foreign travelers to come into the country and Chinese residents to travel overseas once more. 
Long anticipated in California and New York 
For the U.S. states that benefit most from China tourism — California, Hawaii and New York are the top three — the impact of China's absence has been acutely felt. 
"In terms of recovery in L.A., I think it's accurate to say that we won't see full recovery until we see full recovery of Chinese visitation," said Adam Burke, CEO of the Los Angeles Tourism & Convention Board. 
Prior to the pandemic, China had become Los Angeles' top overseas market. In 2016, it became the first U.S. city to welcome more than 1 million Chinese visitors in a single year; by 2019, the number of visitors grew to 1.2 million, about 16% of all international visitation to L.A. The city also became the most popular destination in the U.S. for Chinese visitors. 
And Burke said it takes roughly three and a half domestic long-haul travelers to equal the spend of one Chinese visitor. 
"So while domestic leisure has certainly led the way back in terms of recovery in the sector, there is no question that significantly higher spend and length of stay is why overseas visitors are so critical for gateway destinations like L.A. — and none more so than China," Burke said. 
Chinese visitation to New York topped 1.1 million visitors in 2019, its second-largest international market, spending an average of $2,993 per trip compared with $1,647 for all overseas visitors. 
"The return of outbound travel from China has been long anticipated and will mark a major milestone in New York City's tourism recovery," said Fred Dixon, CEO of NYC & Company.
But Dixon, like others in the industry, expects that the market's return will be "gradual and not without challenges."
Among the procedural challenges are reinstating flight capacity, battling extended visa wait times and navigating Covid-testing entry rules. In addition, leisure groups from China will resume more gradually, with China opening group tours on Feb. 6 to 20 countries, a list the U.S. is not on. 
China also reopened to outbound travel just as it was being slammed by a major Covid surge.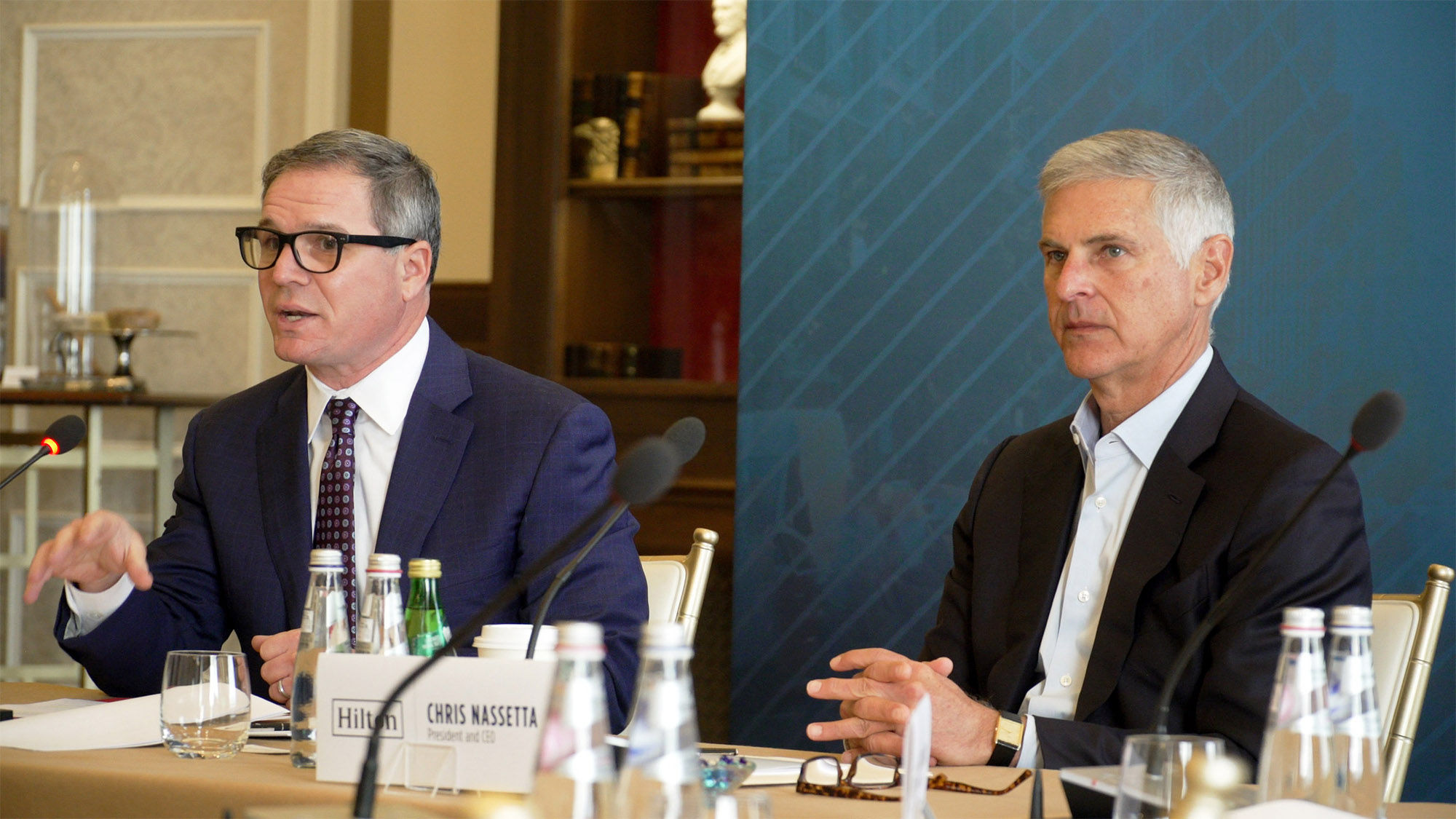 Return of China market should be 'top priority
"They're sort of going through, to a degree, what we went through a year, year and a half ago," Chris Nassetta, CEO of Hilton Worldwide and the national chair of U.S. Travel, said during a press conference in Washington this month with U.S. Travel Association CEO Geoff Freeman. 
But, Nassetta added, "certainly my view is as we get to the second half of this year, particularly, China's going to look and feel a lot like we did a year ago where you're going to see a big burst of travel. At the moment it's a headwind. I think that will ultimately turn into a big tailwind."
Freeman said that courting the China market should be a top priority for the U.S. and cited "two critical issues" that could impact the market's recovery in the U.S. 
One is the Biden administration's testing requirement for Chinese visitors. Freeman said U.S. Travel supported the decision given China's Covid wave, but he said clarity was needed on what metrics need to be met to remove the policy. 
A potentially bigger issue is whether U.S. embassies in China will be able to process tourist visas quickly enough or whether visa wait times will swell to the lengths they have in other markets, where waits topped nearly two years. 
"If we already have these visa challenges in these other markets, what's going to happen as we have Chinese travelers going to U.S. consulates seeking an interview for their visa?" Freeman said. "We're very concerned about ballooning visa wait times in China."
On the Record: Adam Burke of Los Angeles' tourism board 
As of Feb. 7, visa wait times in China were nowhere near as long as in Brazil, India and Mexico, which still had waits of up to 700 days for an interview at some embassies. Wait times for tourist visa interviews in Beijing and Shanghai were 30 and 28 days, respectively. 
Catherine Prather, president of the National Tour Association, said the industry needed "support and swift action from the government" on visa wait times, which she called "a huge roadblock to successfully reopening the China-inbound market." 
"There are other challenges, but getting the authorization to visit our country is a big hurdle — one we need to be on top of now so we're ready when the market does reopen" to group tours, she said.
Source: Read Full Article