ORLANDO — Later this month, Toy Story Land in Disney's Hollywood Studios will get a much needed, and delicious, new addition: Roundup Rodeo BBQ.
It's the first table-service restaurant to come to Toy Story Land, which many have complained lacks air-conditioned spaces, and is also the first Toy Story-themed table-service restaurant in the world.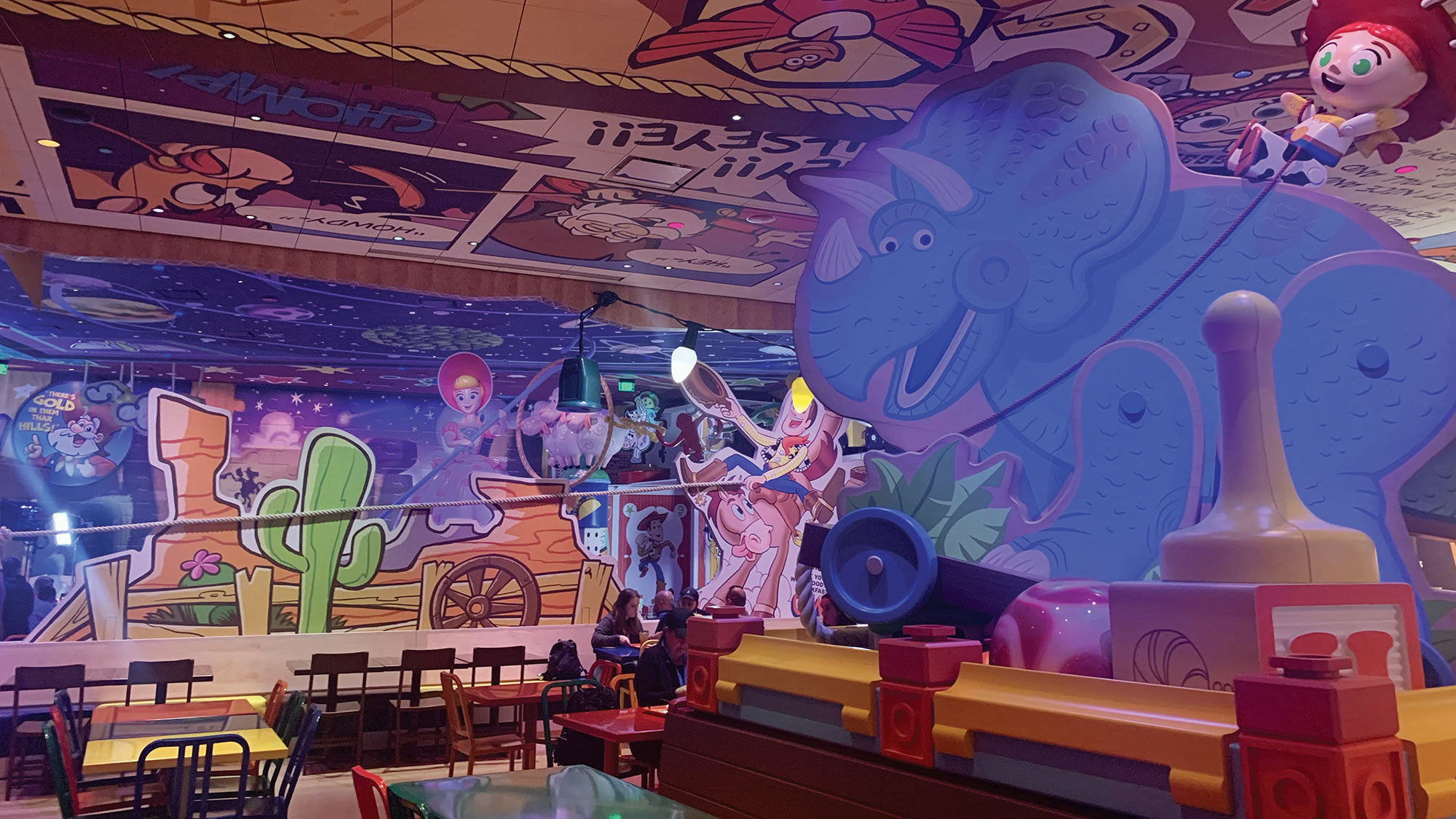 Inside the restaurant, guests become the size of toys and are greeted by larger-than-life string lights, toy pieces (including Bo Peep and her sheep, and Jessie riding a Trixie the triceratops) and more. The restaurant represents a new rodeo arena Andy has created for his toys.
I had the chance to check out the space, and it is whimsical and playful, much like the rest of Toy Story Land. It's colorful, busy and sure to delight all, but especially younger diners.
Inside, diners will hear frequent dialogue from popular Toy Story characters. Occasionally, Andy appears — as everyone has been shrunk to the size of a toy, they are also expected to freeze, just like in the films, until he leaves. It's a fun touch.
The restaurant offers a regular and a plant-based menu; an allergy-friendly menu is available, as well. Brian Piasecki, culinary director of concept development, said parties with mixed diners can request items from all menus.
It all starts with cheddar biscuits served with a sweet pepper jelly. That is followed by a salad course, the main course and desserts served in jars.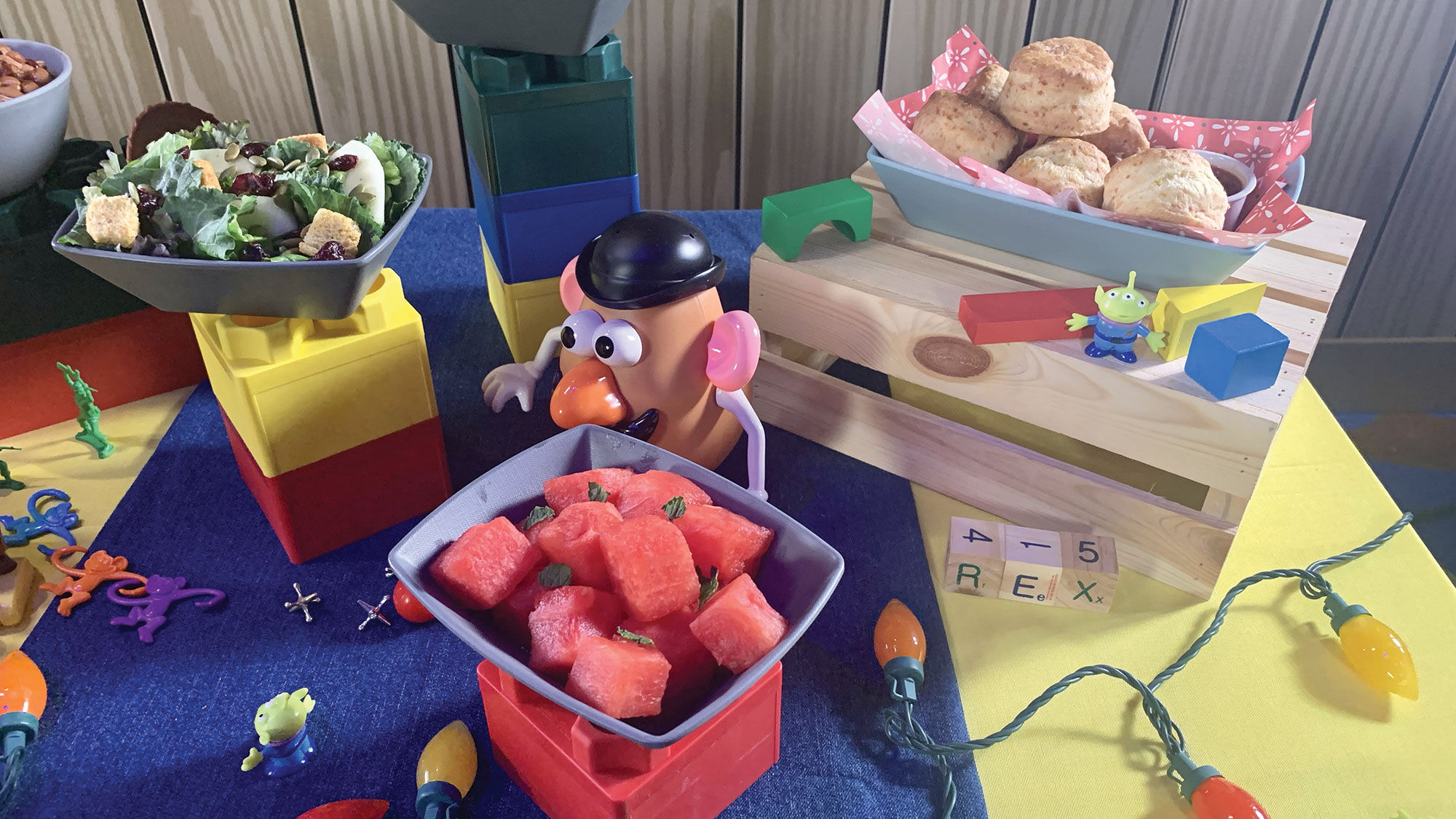 Piasecki called the barbecued meats the "star of our show," noting the restaurant does all of its smoking on premises. 
"It is quite the operation," he said. "Directly behind the kitchen, we actually built a smokehouse for just this concept. Both smokers combined are probably half the size of a school bus. Each one can do about 800 pounds of product at a time, so really large scale, but also really fun."
Diners at Roundup Rodeo BBQ will have a selection of complimentary drinks, including soft drinks and fresh-brewed teas, said beverage director Stephanie Dold. There are also specialty beverage options for "Lil' Riders" and adults alike.
I tried a selection of the plant-based items that will be offered at the restaurant. The Wheezy's Watermelon Salad was fresh, enhanced by torn mint. The Claw! Veggie Slaw was a nice, crunchy addition to the main courses.
Several items from Trixie's Plant-Based Trio of mains really shone. The Scrumptious Bratwurst was good. But the Combat Carloflower and the Rip Roarin' Rib Chop were great.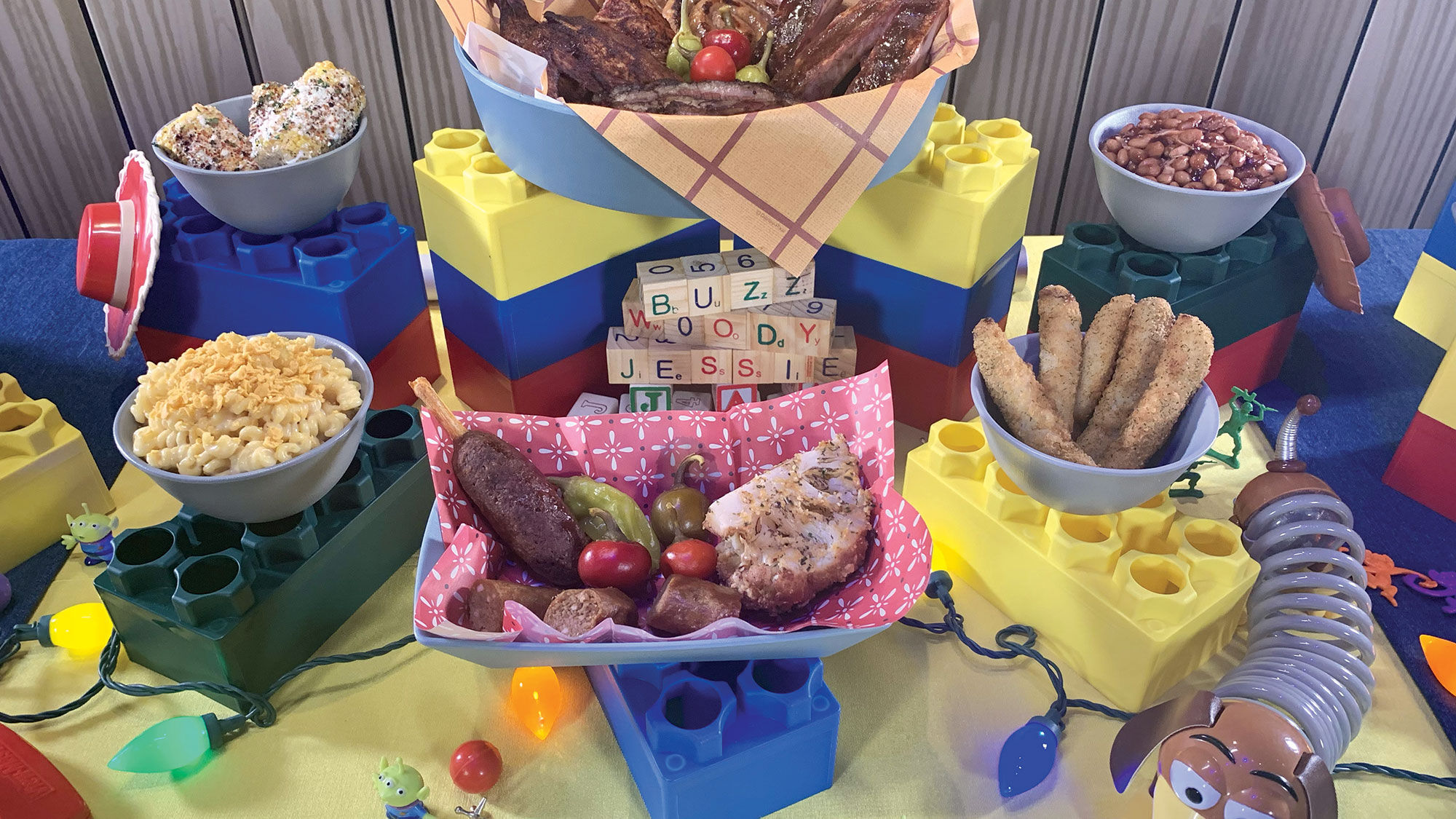 The cauliflower is smoked and finished with a harissa drizzle and walnut gremolata, according to Piasecki, and the flavor was outstanding. It was also the perfect texture — not too firm and not too soft.
My absolute favorite was the Rip Roarin' Rib Chop, a "chop" made of barbecue-seasoned and glazed Impossible meat. It was skewered with a bit of sugarcane, and I think I could eat it for every meal without tiring of it.
Meat lovers all had positive things to say. On each platter, you can expect Evil Dr. Smoked Ribs, Buttercup's Beef Brisket, There's a Sausage in my Boot and BBQ Chicken — with Style. The brisket is hand-carved, Piasecki said. The chicken is brined for 48 hours before roasting. The ribs are smoked, and the sausage is finished on an oak grill.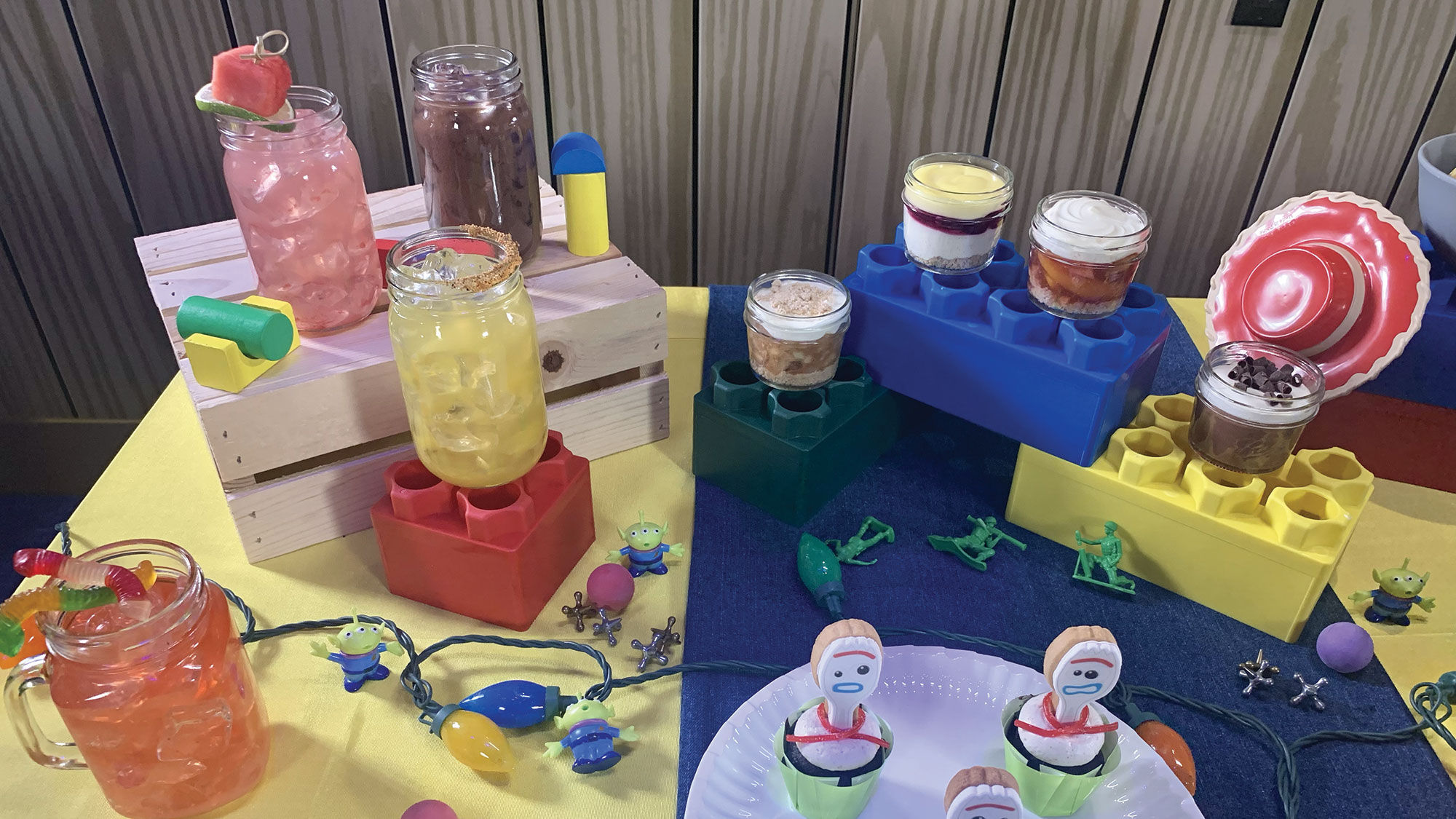 Roundup Rodeo BBQ not only offers a new, air-conditioned space in Toy Story Land where weary "toys" can grab a seat and kick back, but it gives the area another much-needed food option (Woody's Lunch Box, a quick-service eatery, is often rather busy at peak times). 
It's a welcome addition that fits in perfectly with the land's theming. 
Reservations are required for Roundup Rodeo BBQ, which officially opens on March 23. The cost for both lunch and dinner is $45 per adult, plus tax and gratuity, and $25 per child ages 3-9, plus tax and gratuity. Specialty beverages, with and without alcohol, come at an extra charge.
Source: Read Full Article