As a service-connected disabled veteran who served in the U.S. Navy for 16 years, I was skeptical about taking my first leisure cruise. The thought of getting back on a ship that was approximately the same size as the aircraft carrier I was stationed on for four years gave me some anxiety. I walk with a cane now, and getting around has become cumbersome. I'm not comfortable in confined spaces and with large groups, especially when it gets noisy.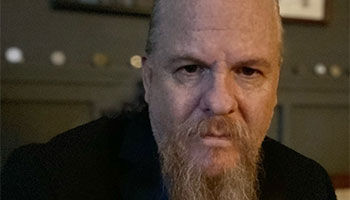 D. Scott Wade is a retired Naval intelligence photographer and military police
instructor. He currently is a writer and artist living in Waleska, Ga.
After speaking with several repeat cruisers, my knowledge grew and so did my confidence in taking what for me would be an adventure. My wife booked us for Thanksgiving week.
Check-in was easy, and I noticed staff from the cruise line assisting passengers in wheelchairs, one of whom I saw was a World War II veteran, to the check-in gates. Looking around at the mass of people, I recognized many of the military ball caps and patches from all the branches of service. I passed my time waiting to board by shaking hands and thanking fellow veterans for their service and asking about their previous experiences onboard cruise ships. Most were extremely happy with cruising.
More Forums:
• Cataloging the Black travel experience
• A new path to destination management
• Welcome back, global travelers
Once onboard, I couldn't help but notice the small size of the elevators and the lack of the earlier assistance I had witnessed for disabled people. I held the elevator doors for a man in a wheelchair to get on. He just fit in there, and from his position he had no way to reach the button for his deck. Fortunately, we were with him and could help him get to his floor. This would be the first of many instances like this during my trip.
Once we settled into our room, we went out exploring as the ship pulled out of port. It was smooth for about an hour, then the ship began heading into swells of about 20 feet. The ship rocked and creaked in every seam, which was nothing like what I had been used to. Aircraft carriers have very sophisticated stabilization systems; this was not the case on this cruise ship. I stumbled a bit trying to stabilize myself with my cane but finally got the hang of walking in a wavy line, drifting back and forth and side to side with all the other passengers. I'm sure it looked like some kind of silly line dance: "Take three steps to your left, now three to your right." It took a day before I got my sea legs.
Day 1 consisted of getting oriented to the ship, finding my way around and seeing what was on which deck. I met our cabin housekeeping staff, and they were the kindest group I had met. As a matter of fact, all the crew were amazing people. The ship consisted of crew members from dozens of nations. Being a veteran of the war in the former Yugoslavia, I had several great conversations with crew members from Bosnia, Croatia and Serbia about the conditions after the war.
I discovered the ship's gift shops and found a few trinkets to bring home. While I was there, I spoke to a wonderful woman who was using sign language with her son, who appeared to be in his late teens. I asked what accommodations had been made onboard for deaf passengers. "Nothing" she replied, with profound emotion in her voice. "They have no personnel onboard who know sign language."
This surprised me, knowing that there were several hundred crew; they didn't have any assistance for the deaf?
Our voices:
• Legal Briefs: Warning clients about Covid in four steps
• From the Window Seat: Travel books to give yourself
A couple of days later, my wife and I were on a shore excursion, and there was a blind couple in the group. There were about 20 of us on the daylong trip, and the guide was incredible. He tried his best to help the couple along, but it was left up to us, the passengers, to assist them. We jumped in just in time as the couple nearly walked into traffic. Once again, I was surprised that the ship provided no additional assistance for this couple.
All in all, my wife and I had a great time. But I was really surprised that the ship and crew seemed to do the bare minimum to accommodate disabilities. It seemed to be designed with Americans With Disabilities Act requirements as an afterthought. There was a lack of ramping for wheelchairs and scooters. Elevators were tiny. There was a high angle of incline and decline getting on and off the ship in port. There were long walks from the ship to the port itself, with only one or two carts to assist.
In other words, there were many obstacles for me and others with disabilities. I can walk with a cane but have a hard time navigating through chairs and seating areas. The lack of assistance for people with disabilities was palpable.
I won't draw conclusions about the entire cruise industry from this single experience. And I am not calling out the specific cruise line I sailed with because I have nothing to compare it to; I don't know if it is better or worse than others.
I do plan on cruising again, perhaps another Thanksgiving trip. Perhaps even giving this line a second chance, on a different ship. The passengers themselves were great — a happy bunch of adventurers — and the feeling of stress-free enjoyment across gender, race and orientation was a wonderful experience. I think the world could learn a lot from those who cruise. As can the cruise lines.
Source: Read Full Article