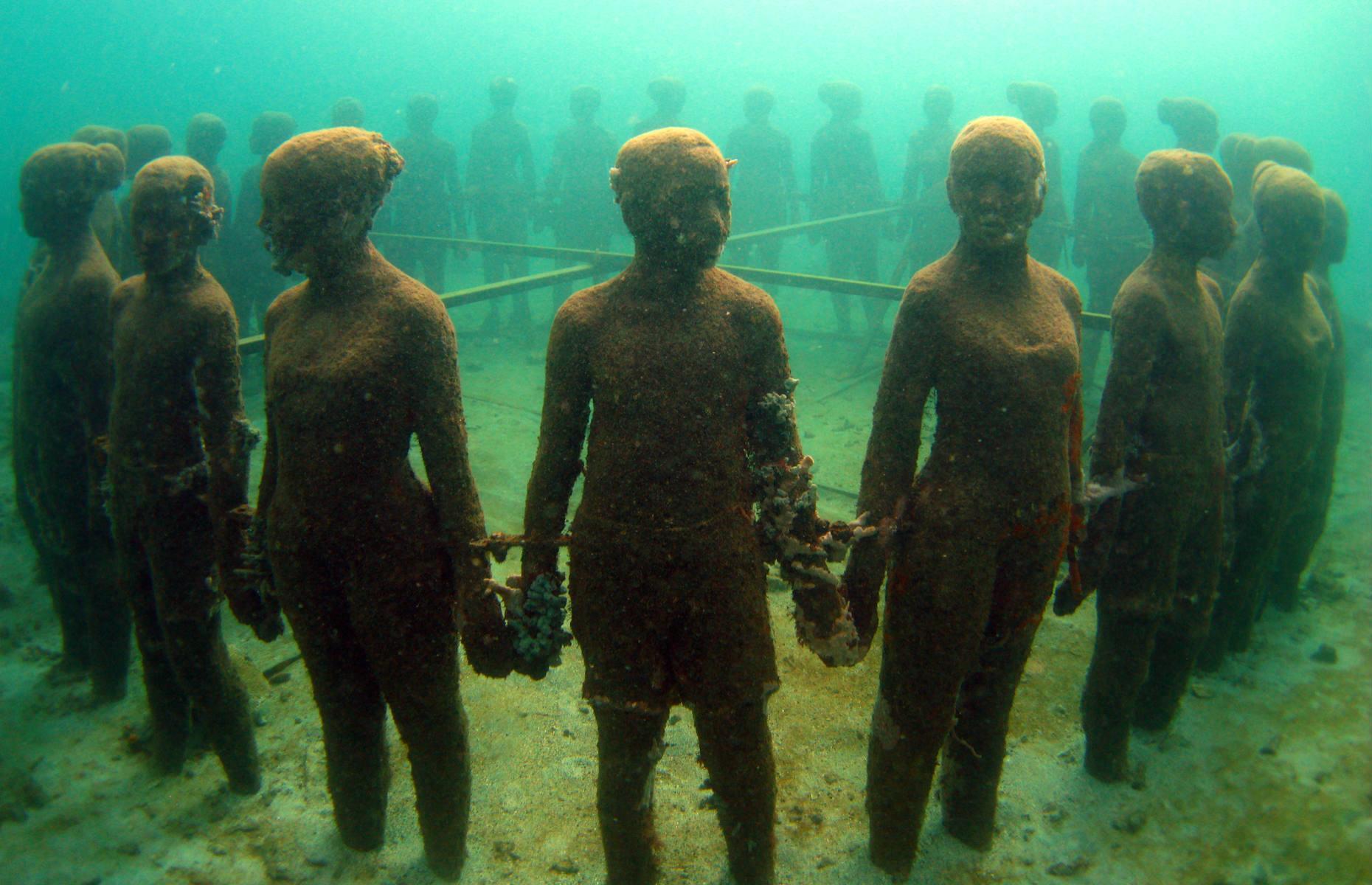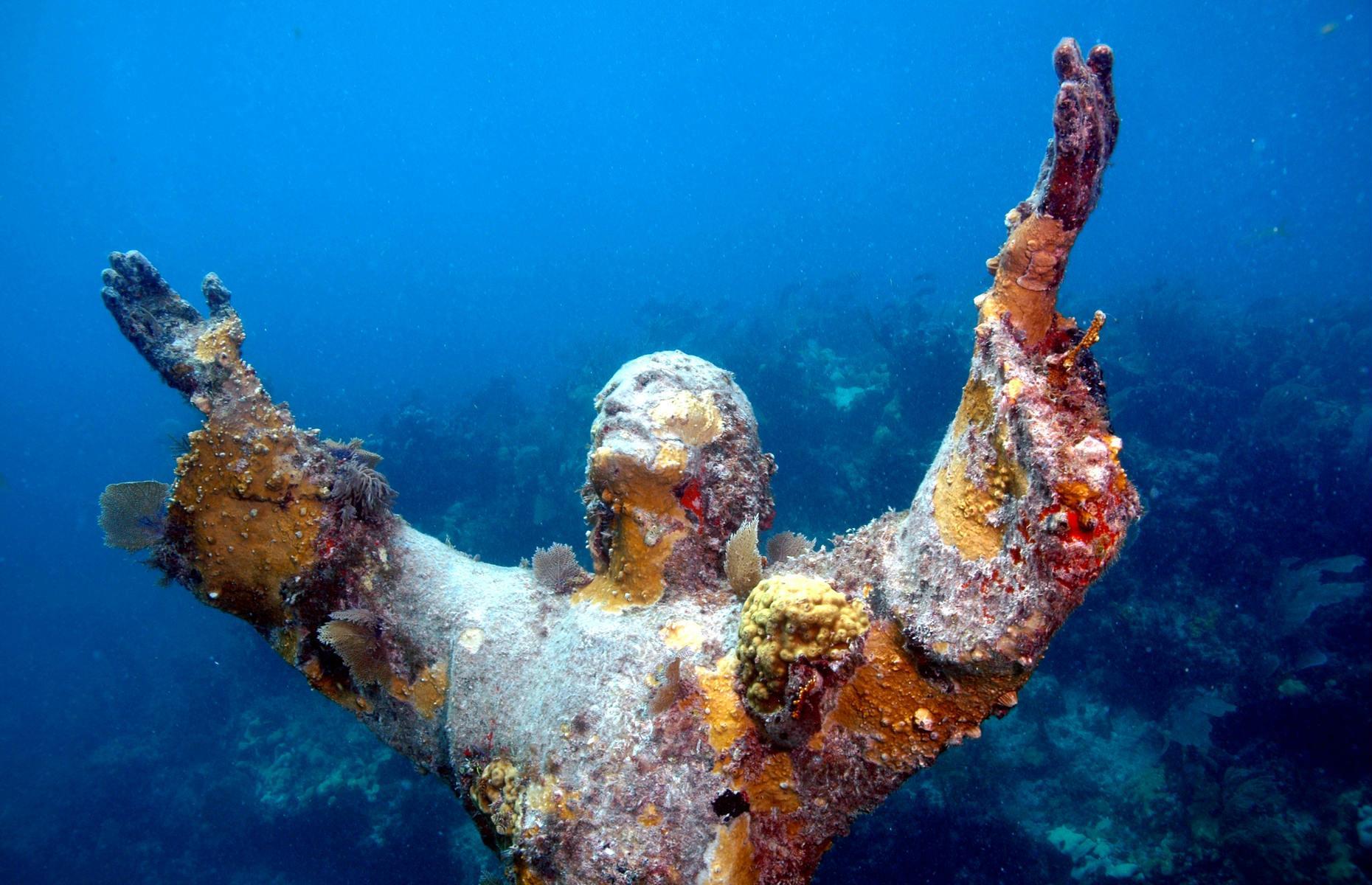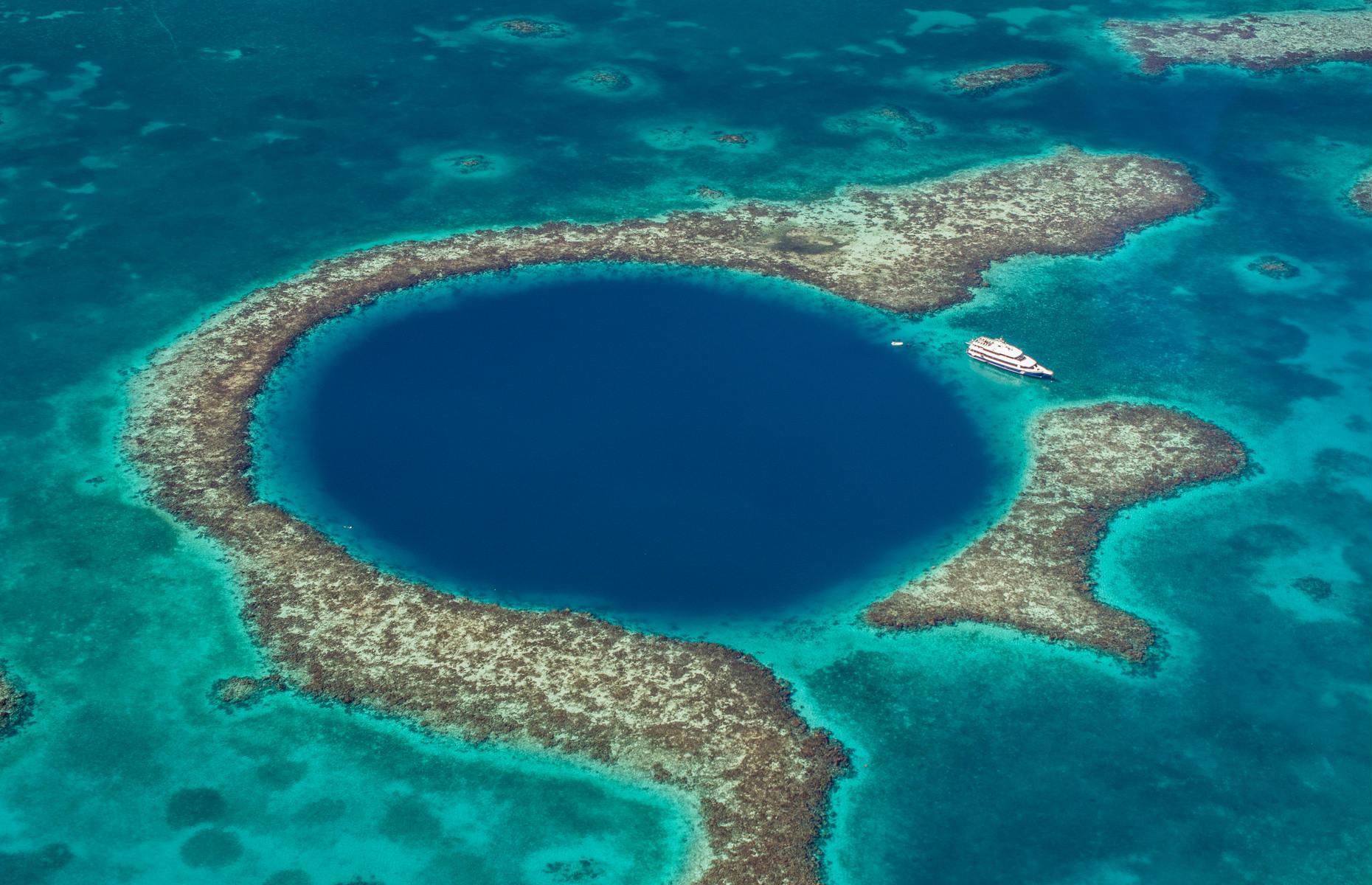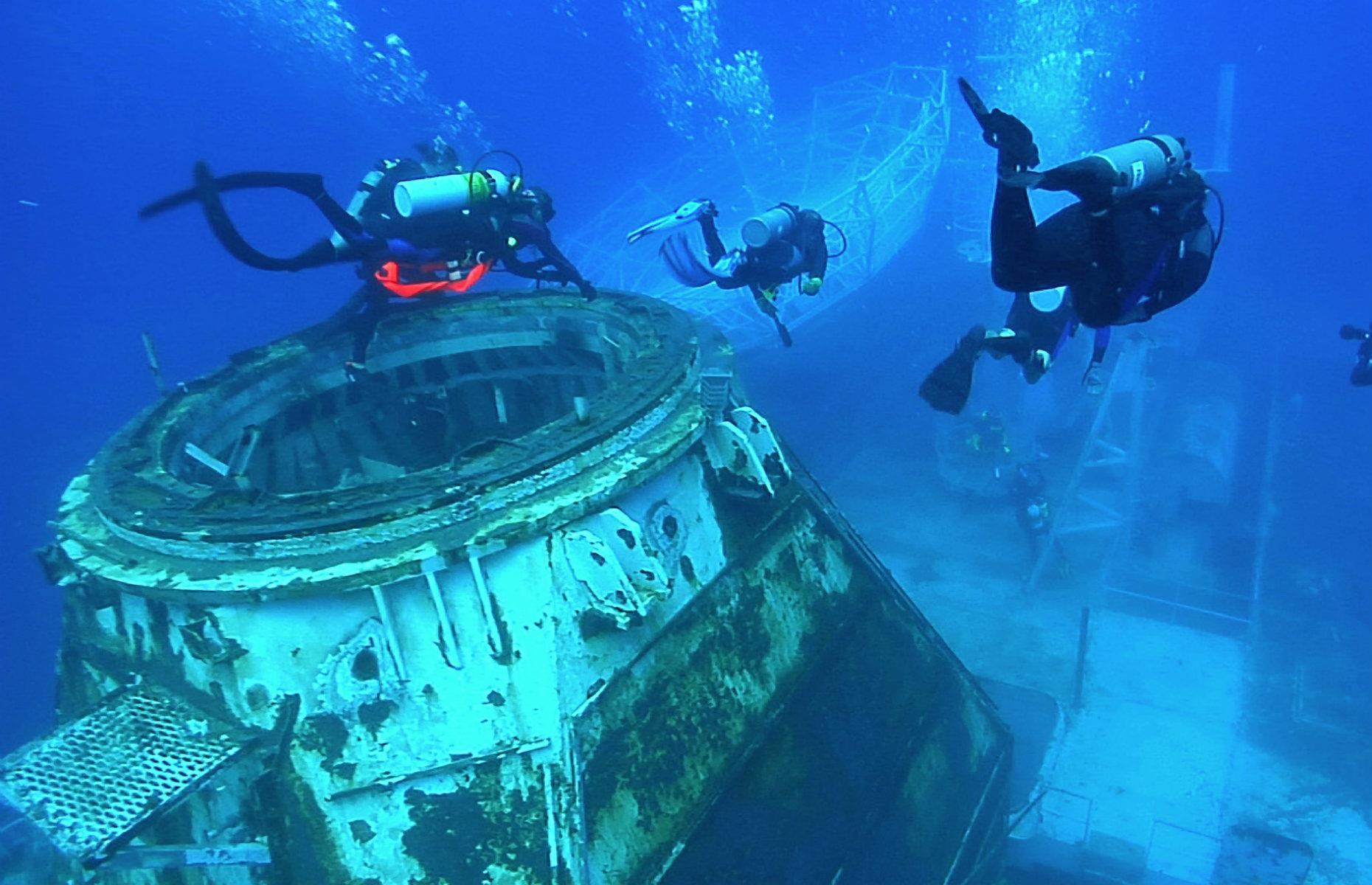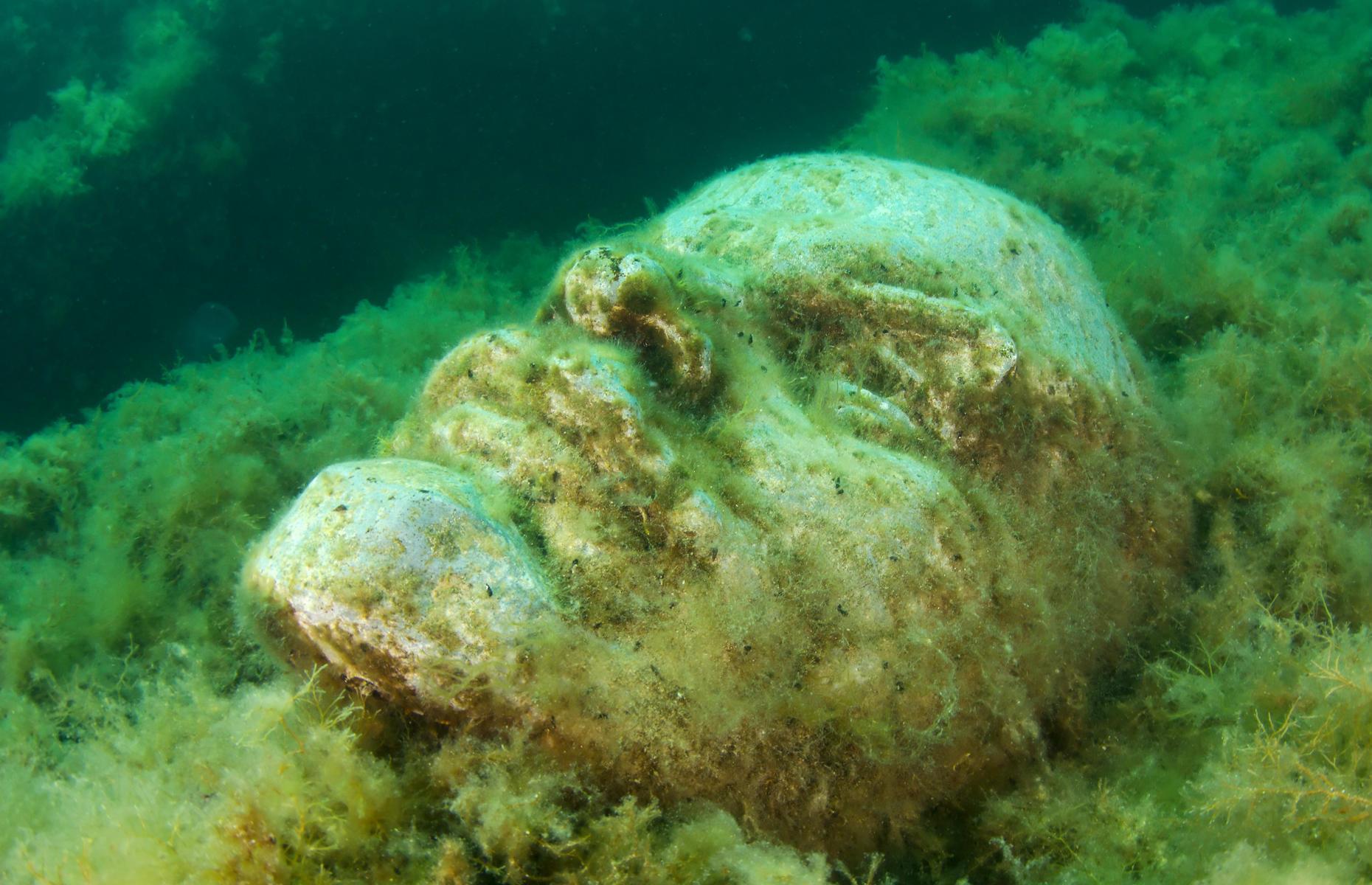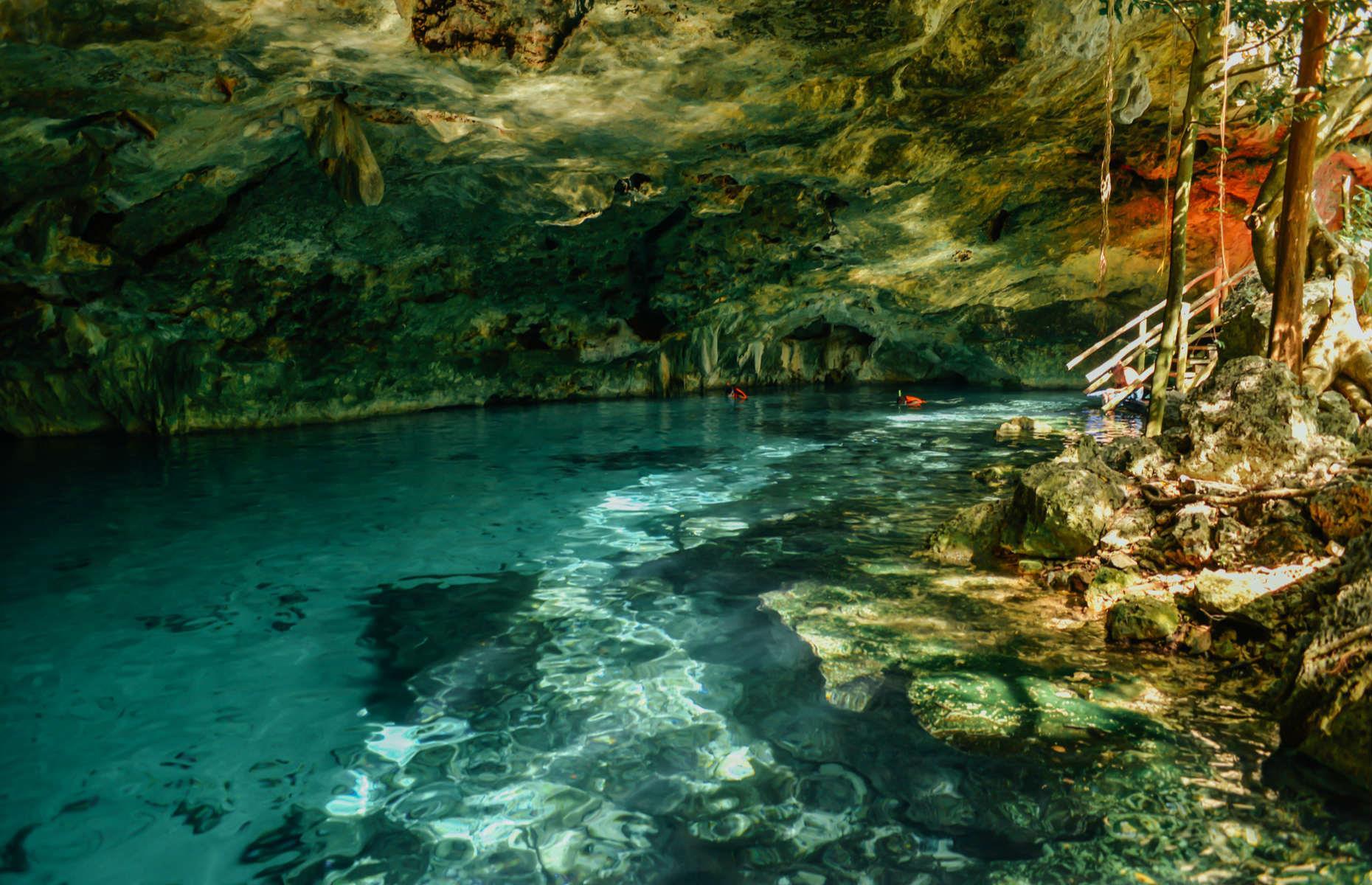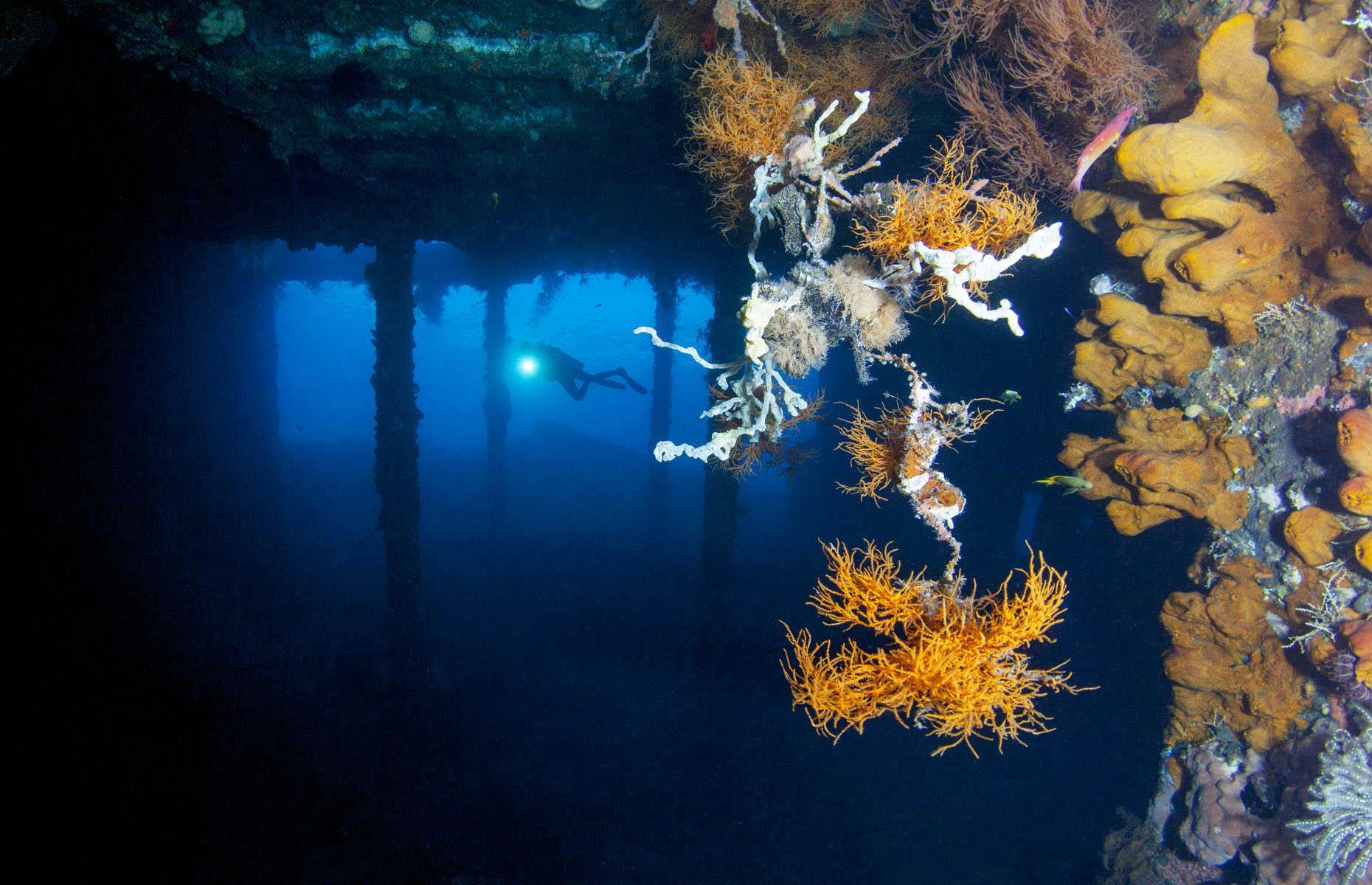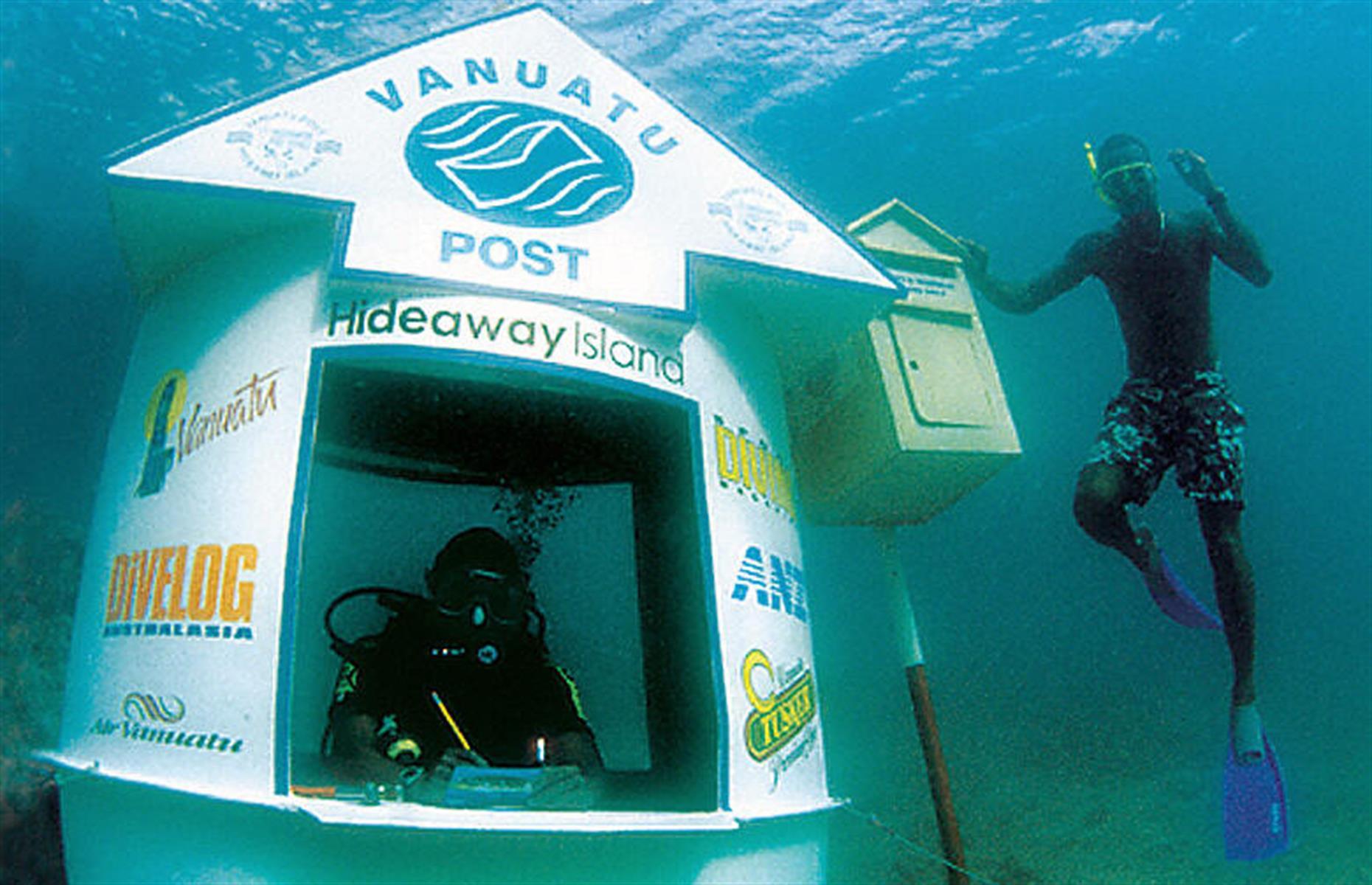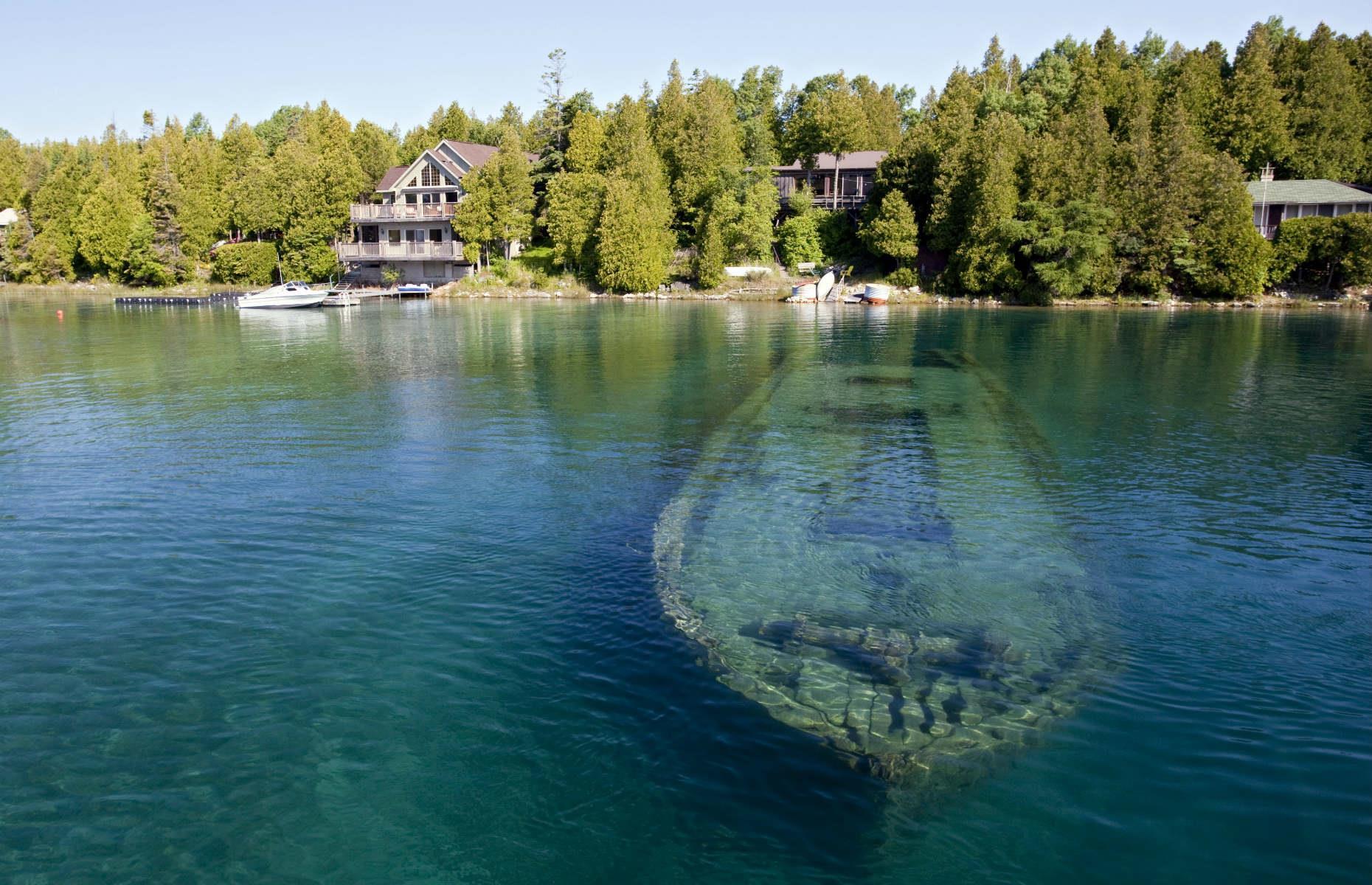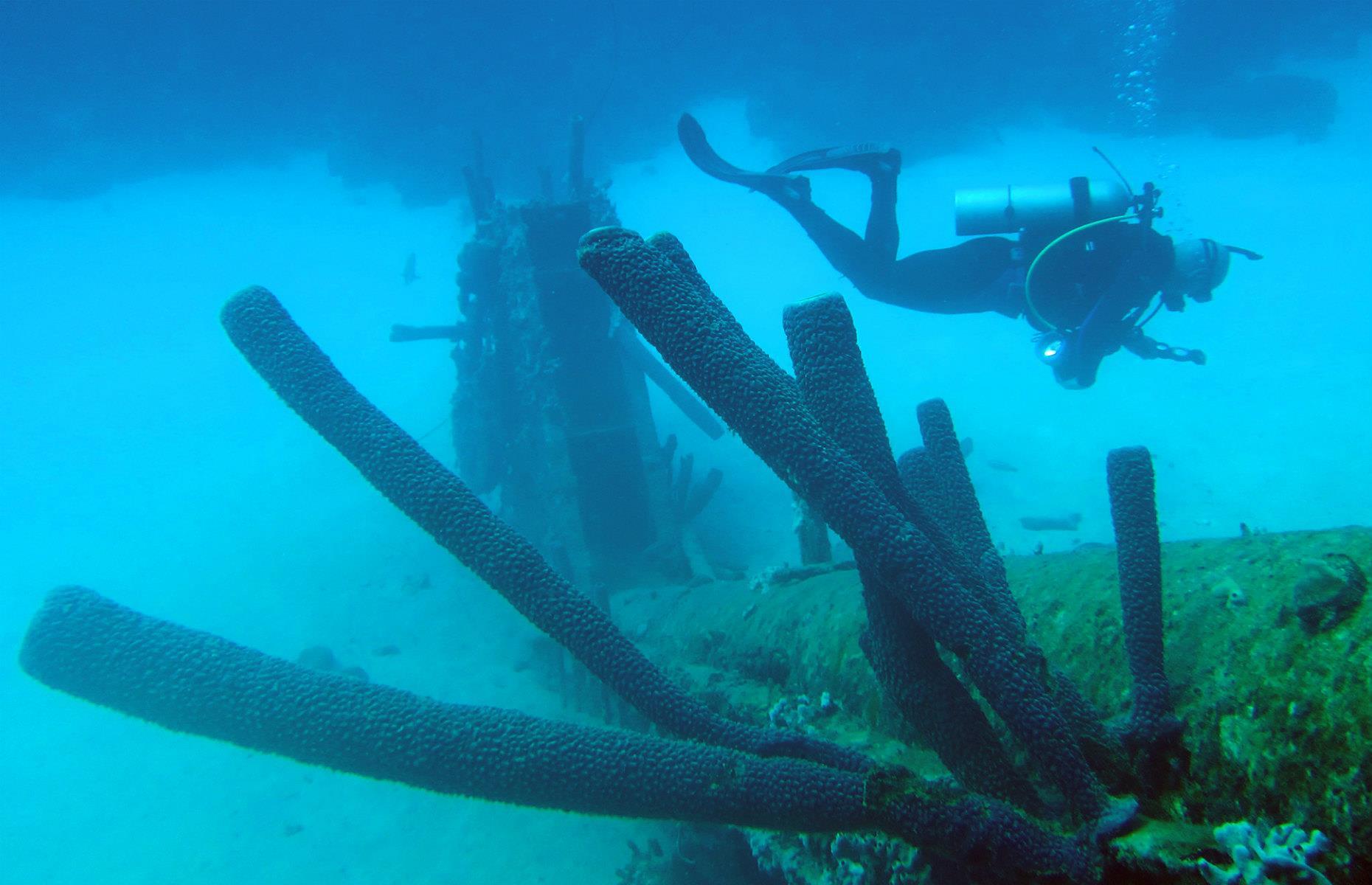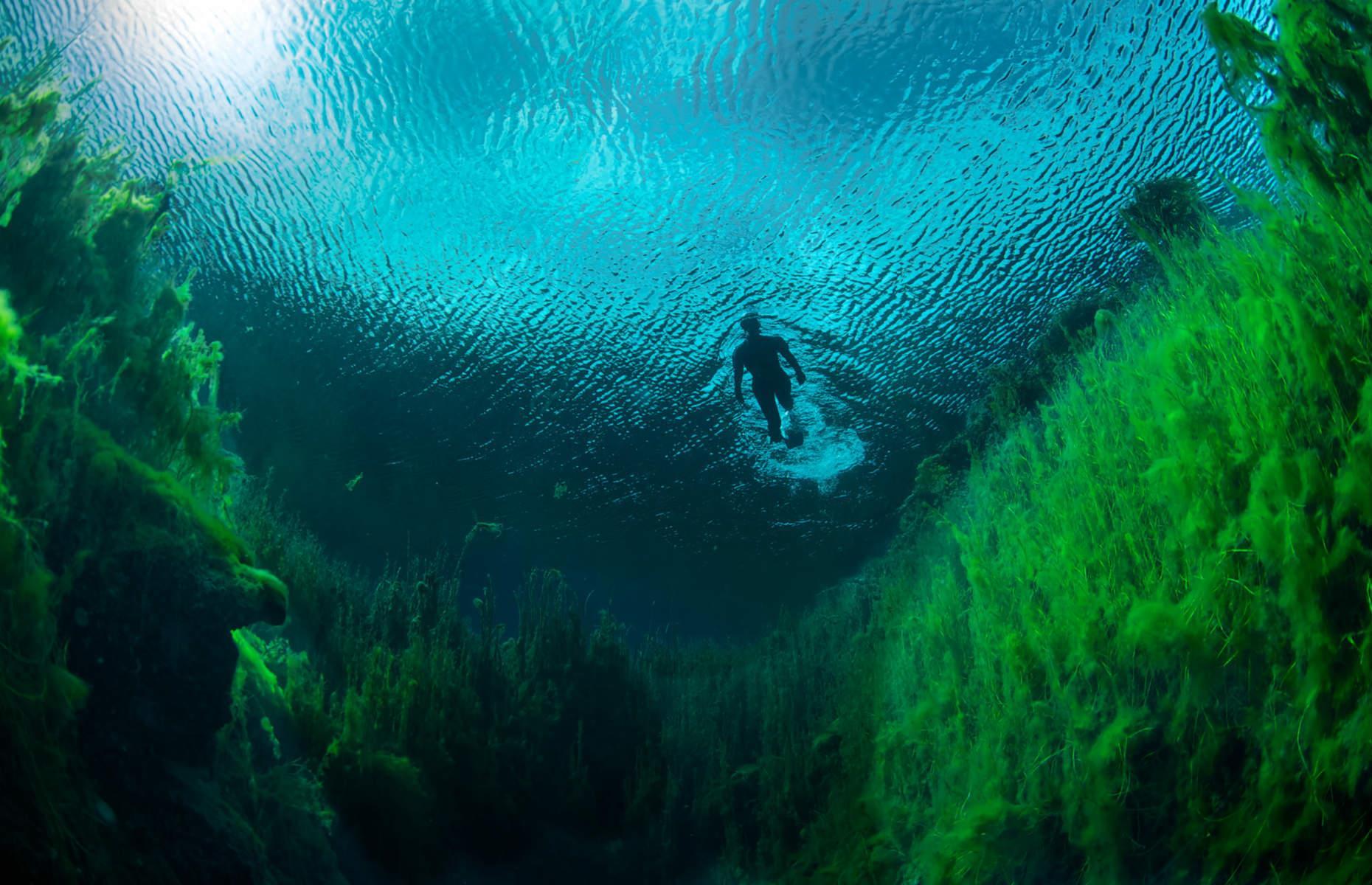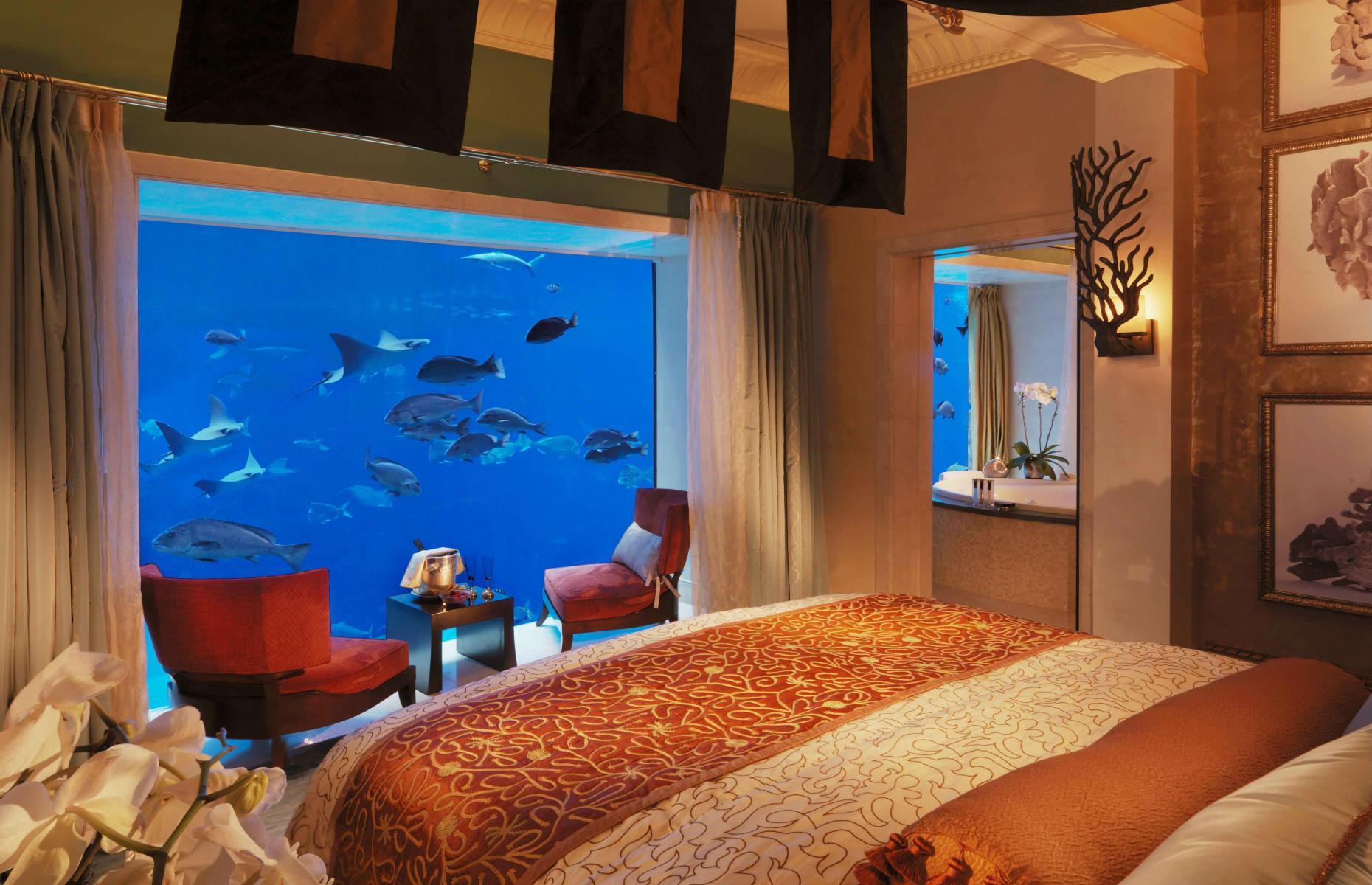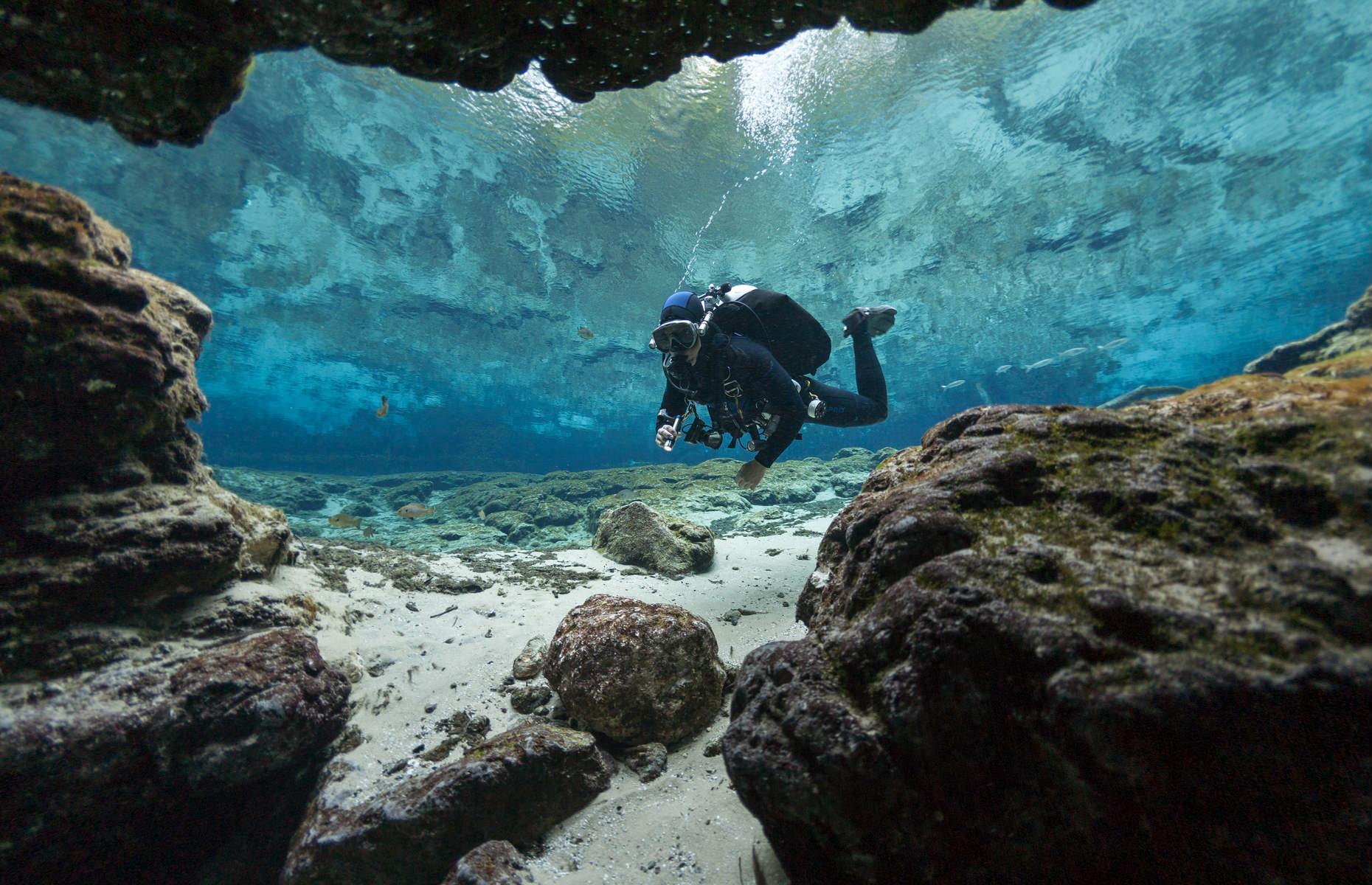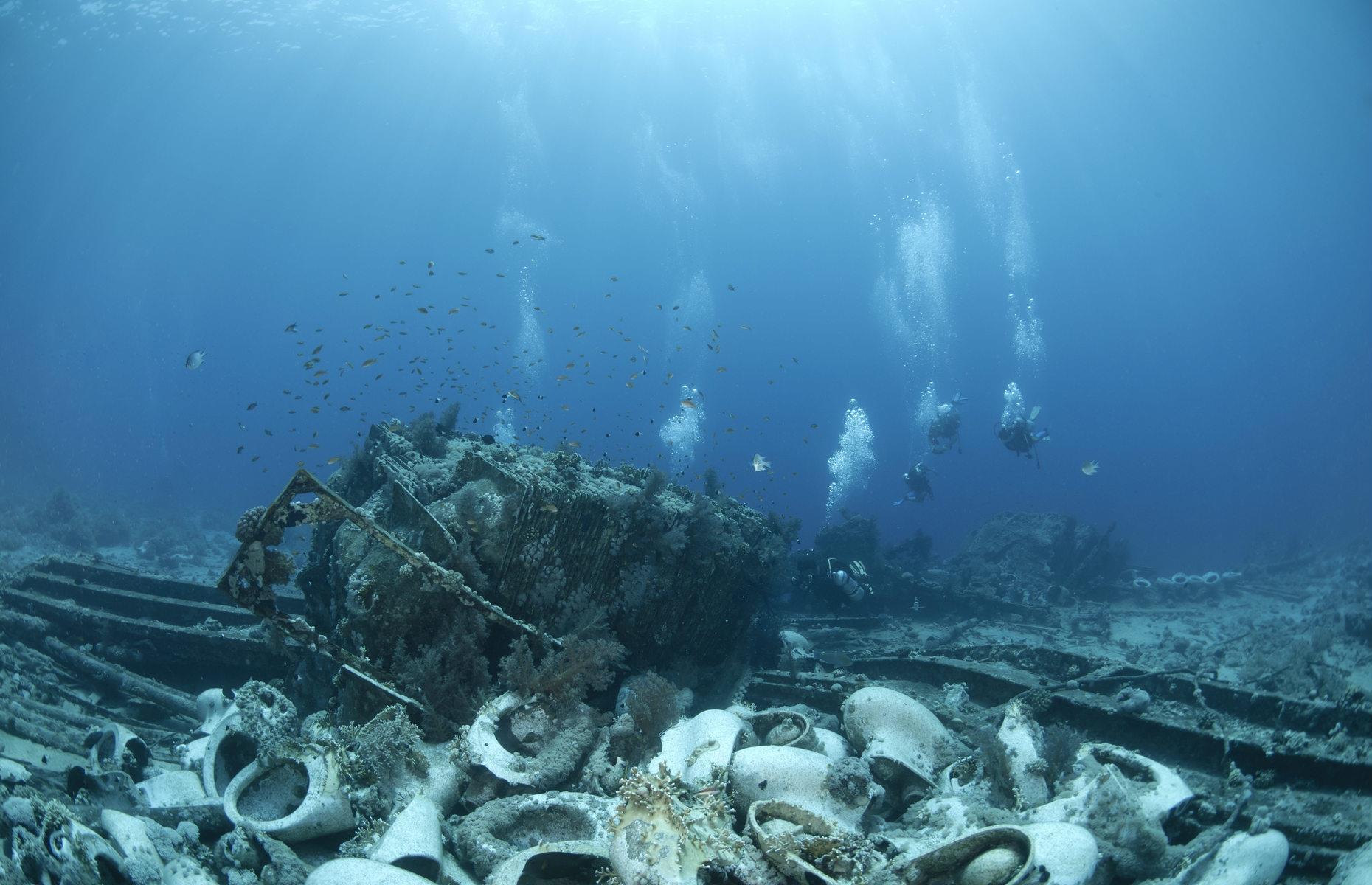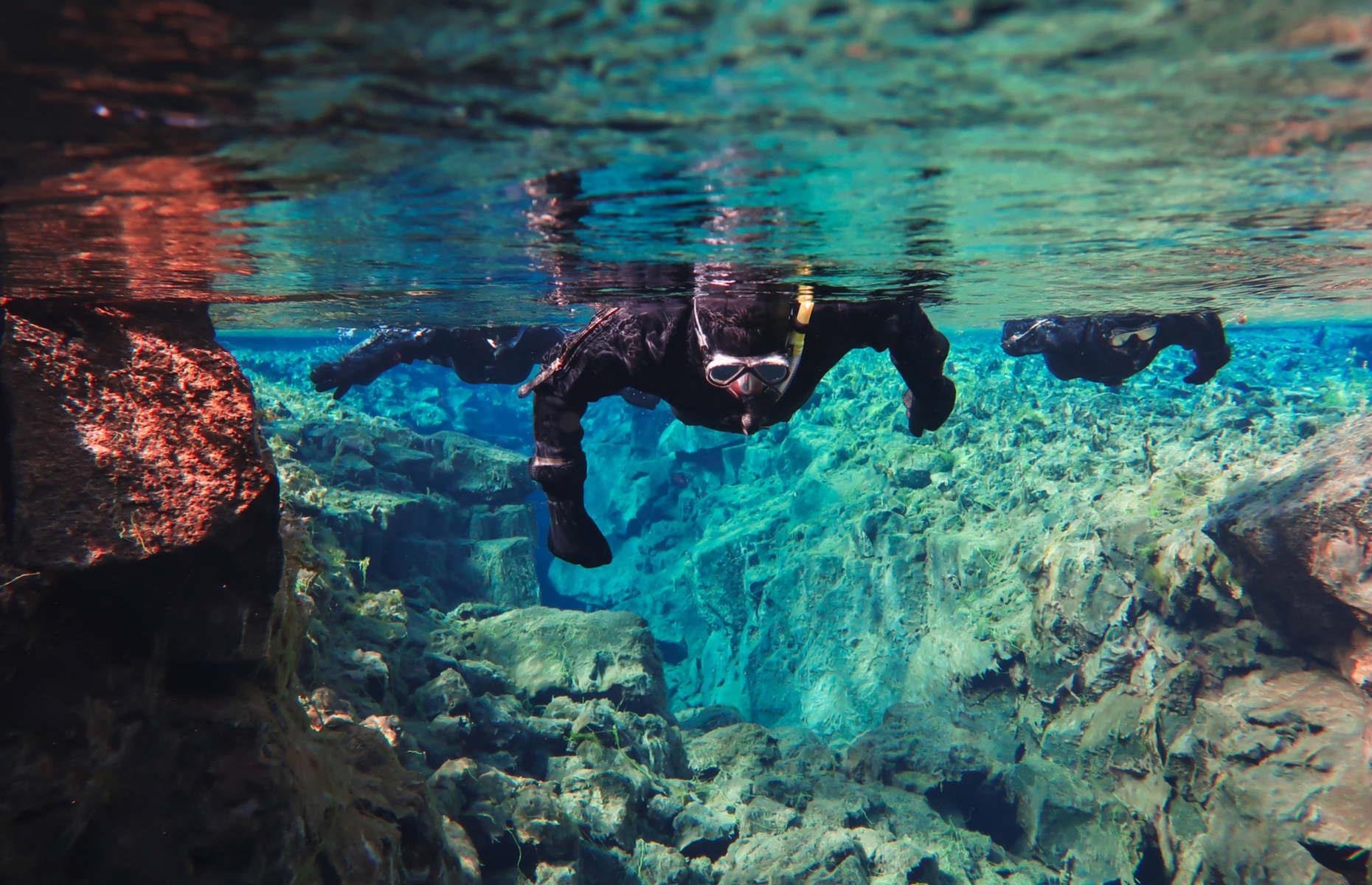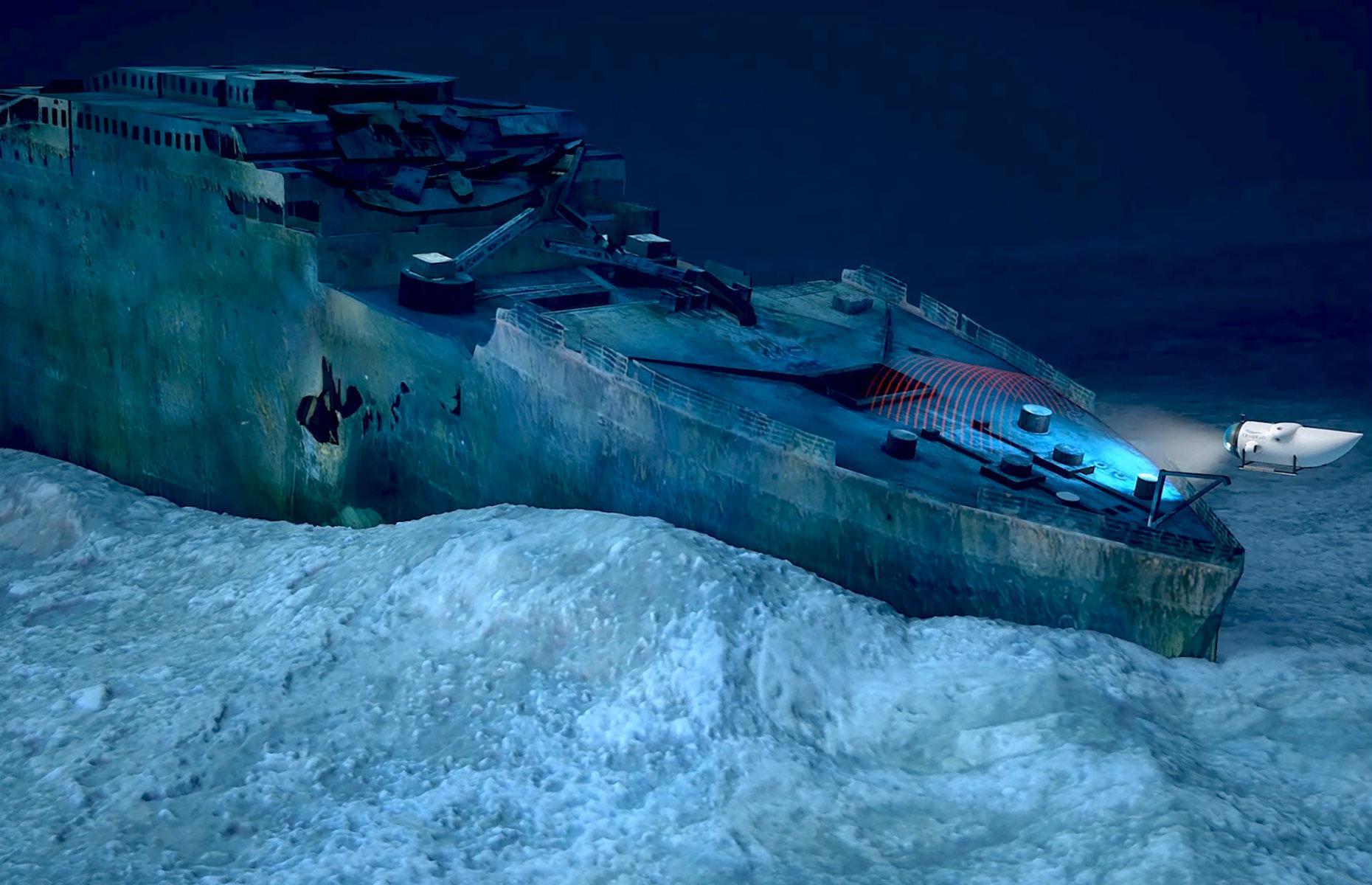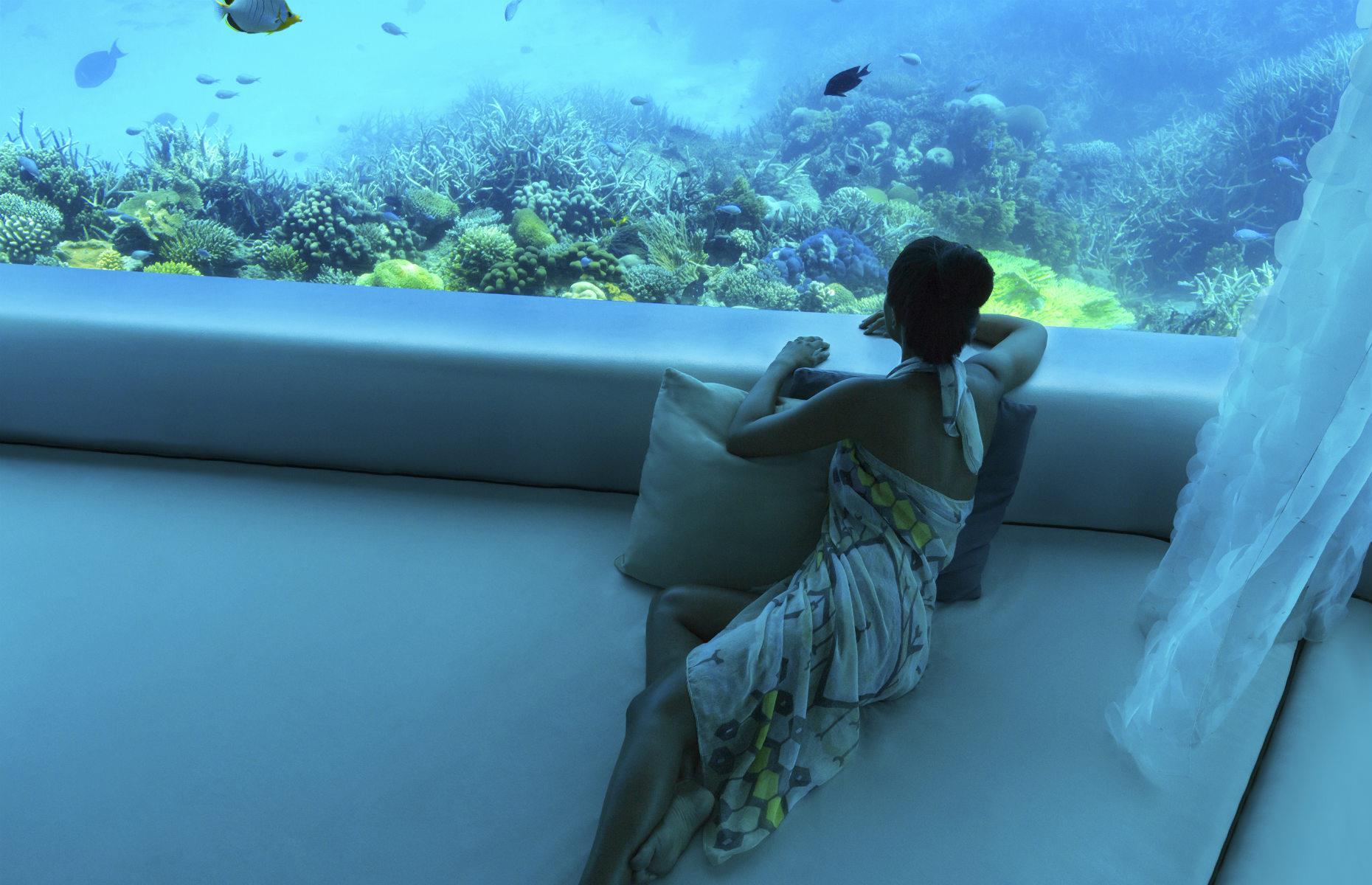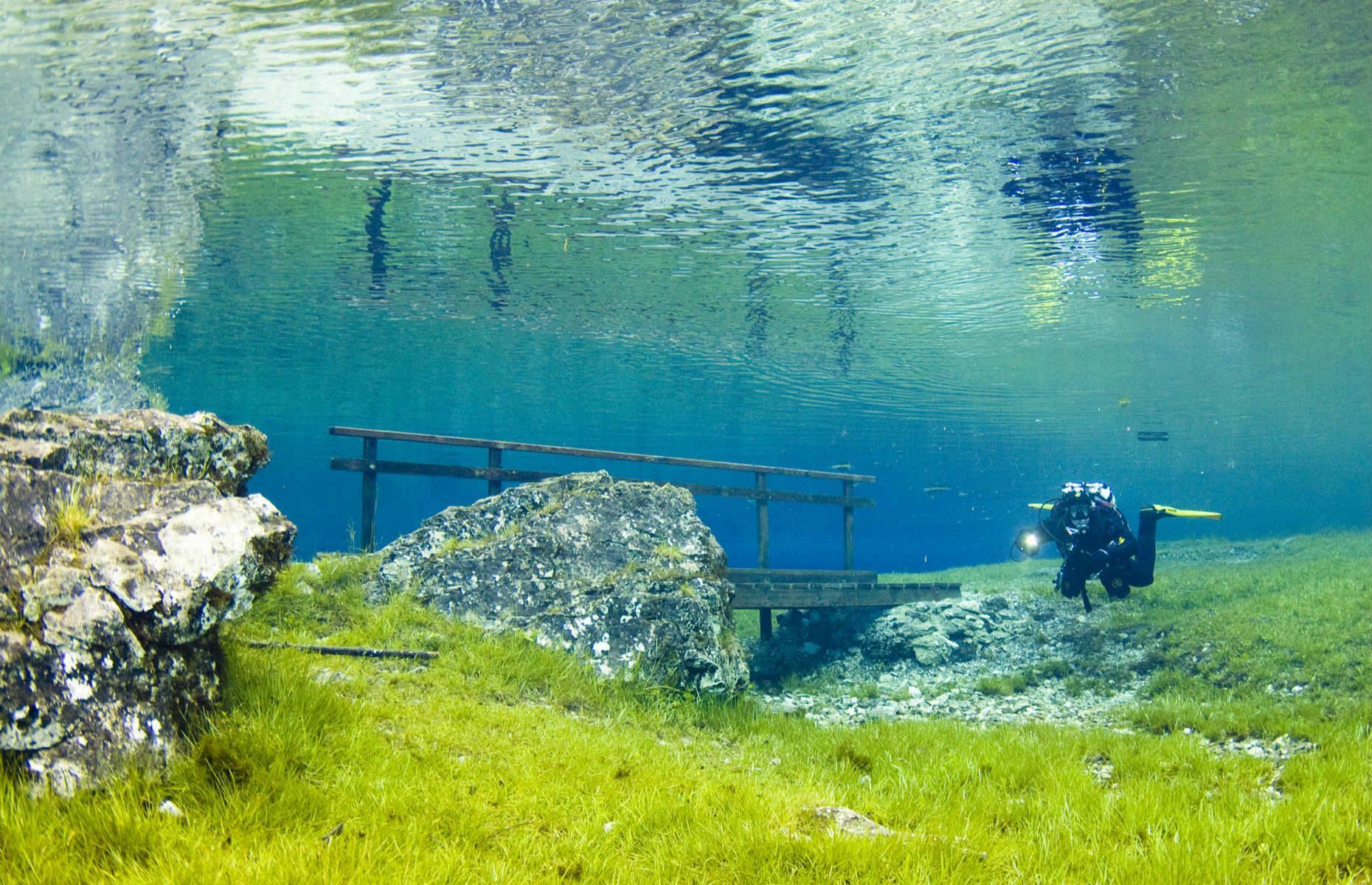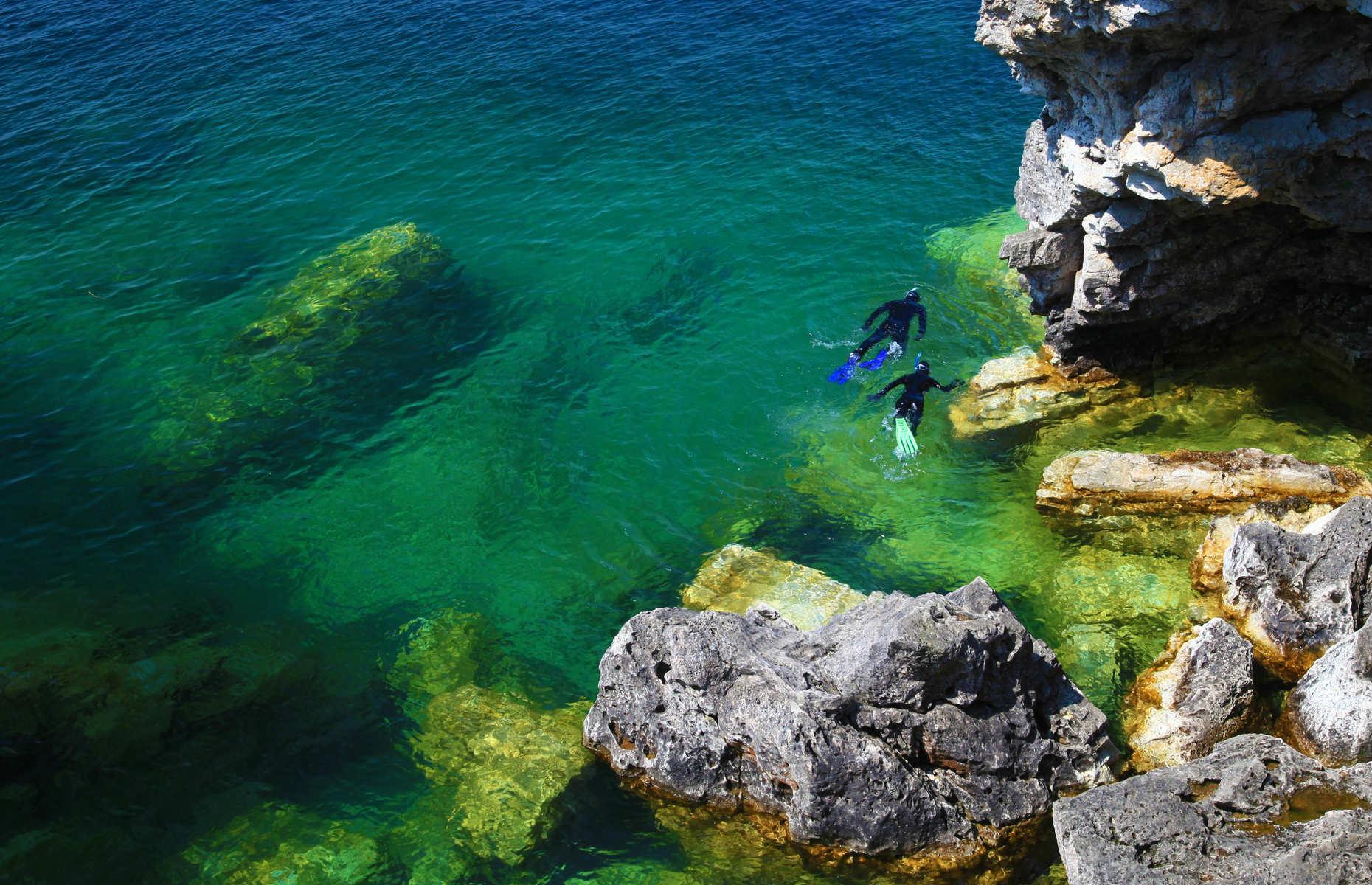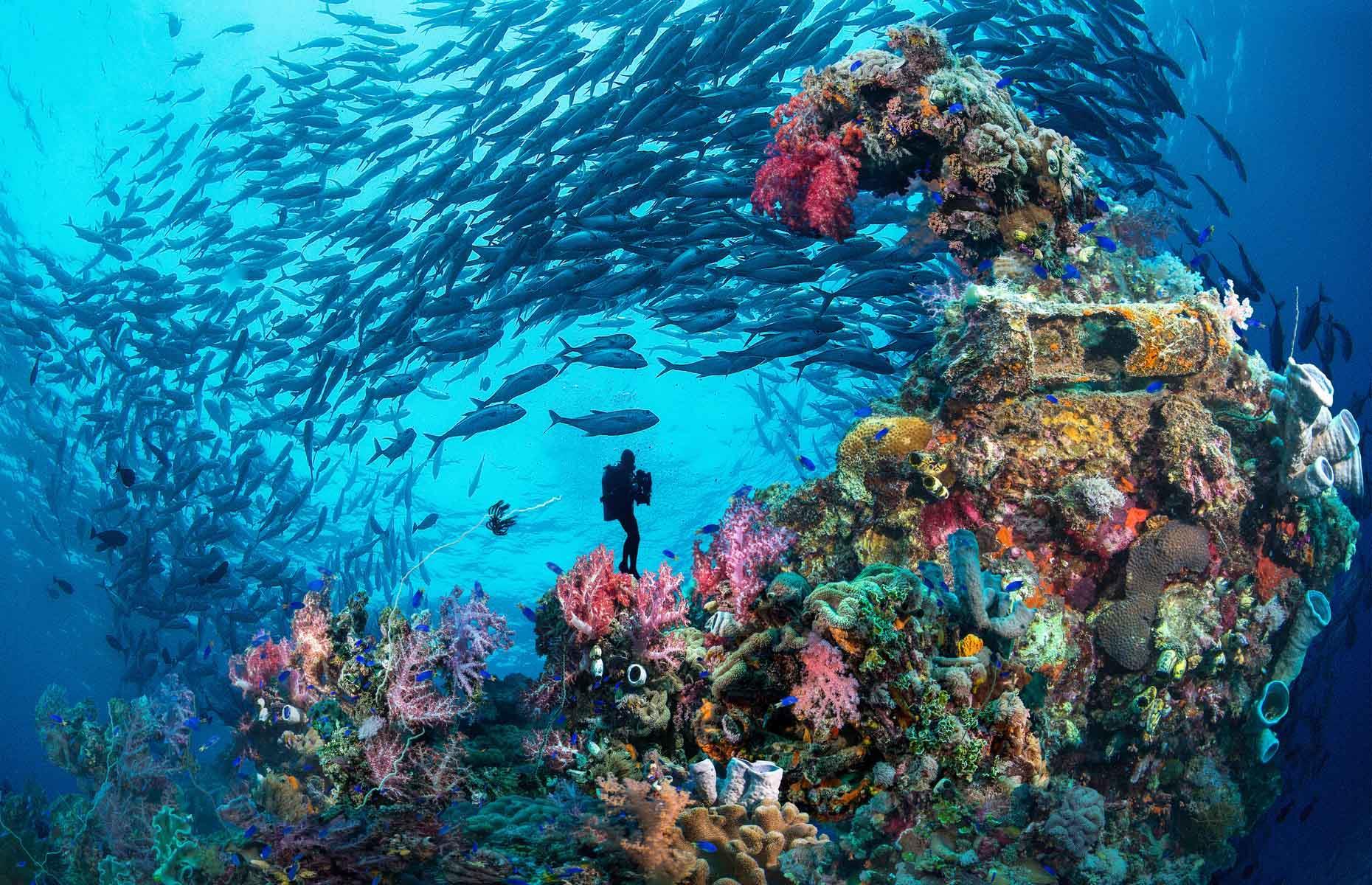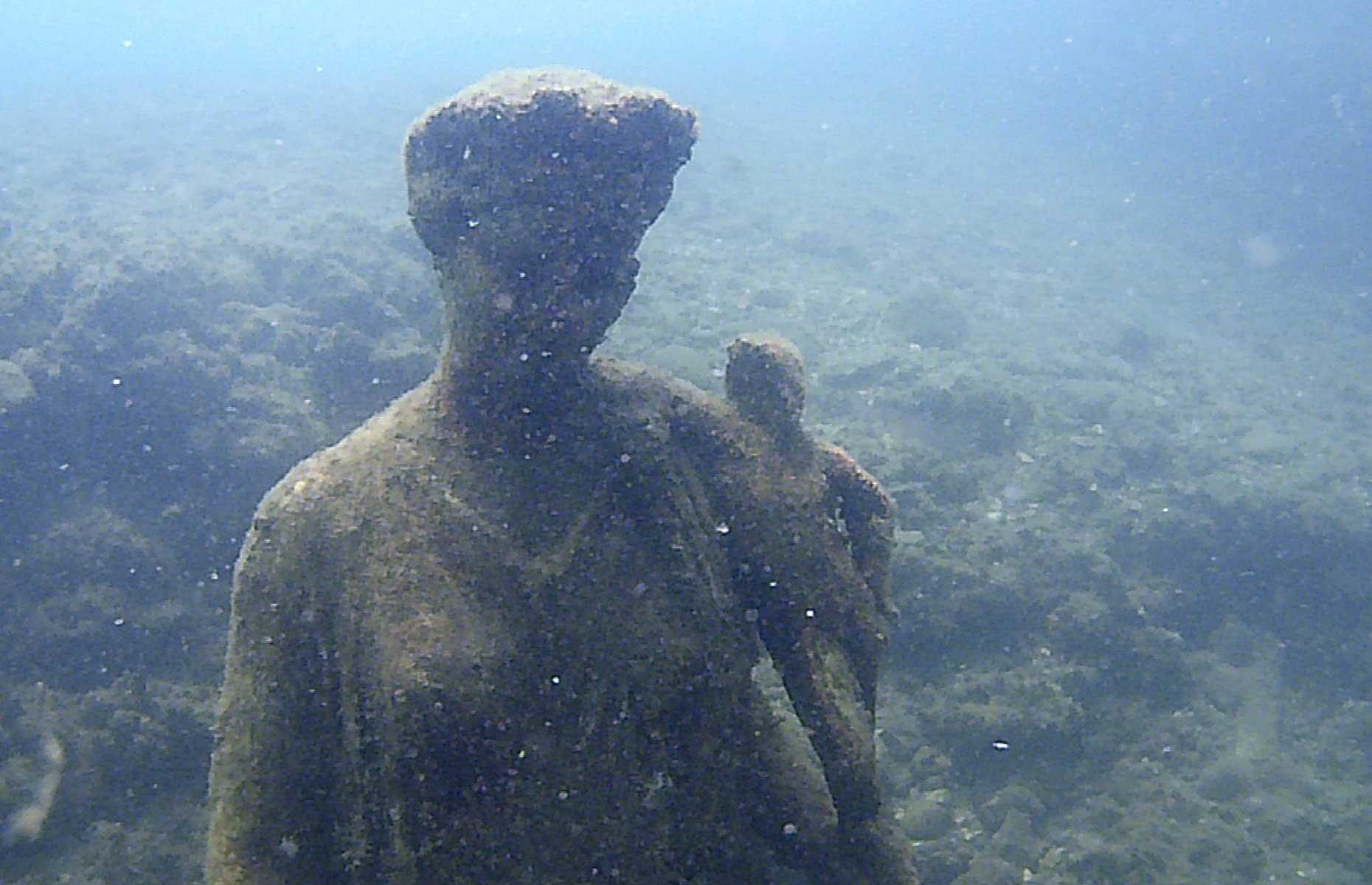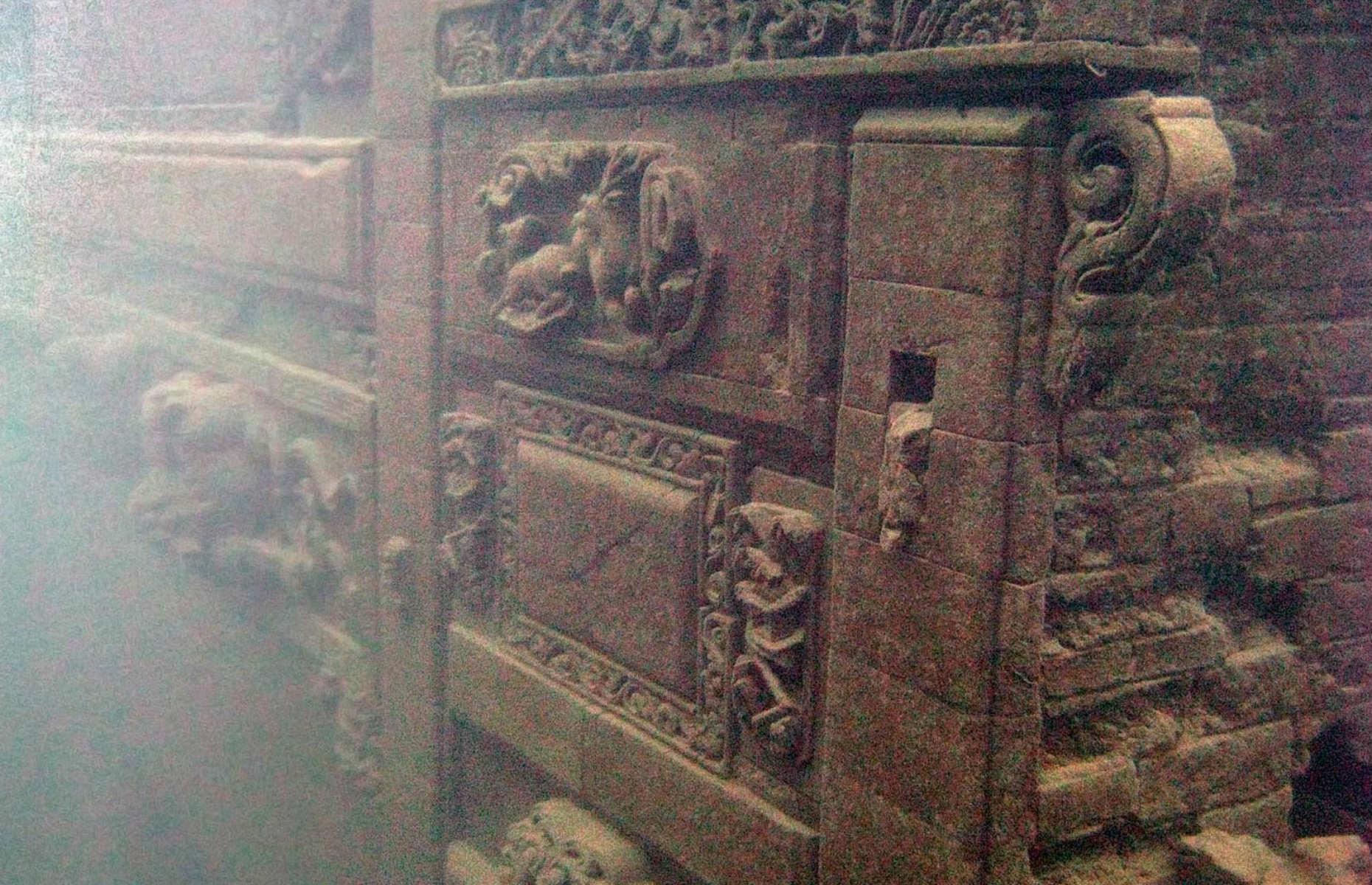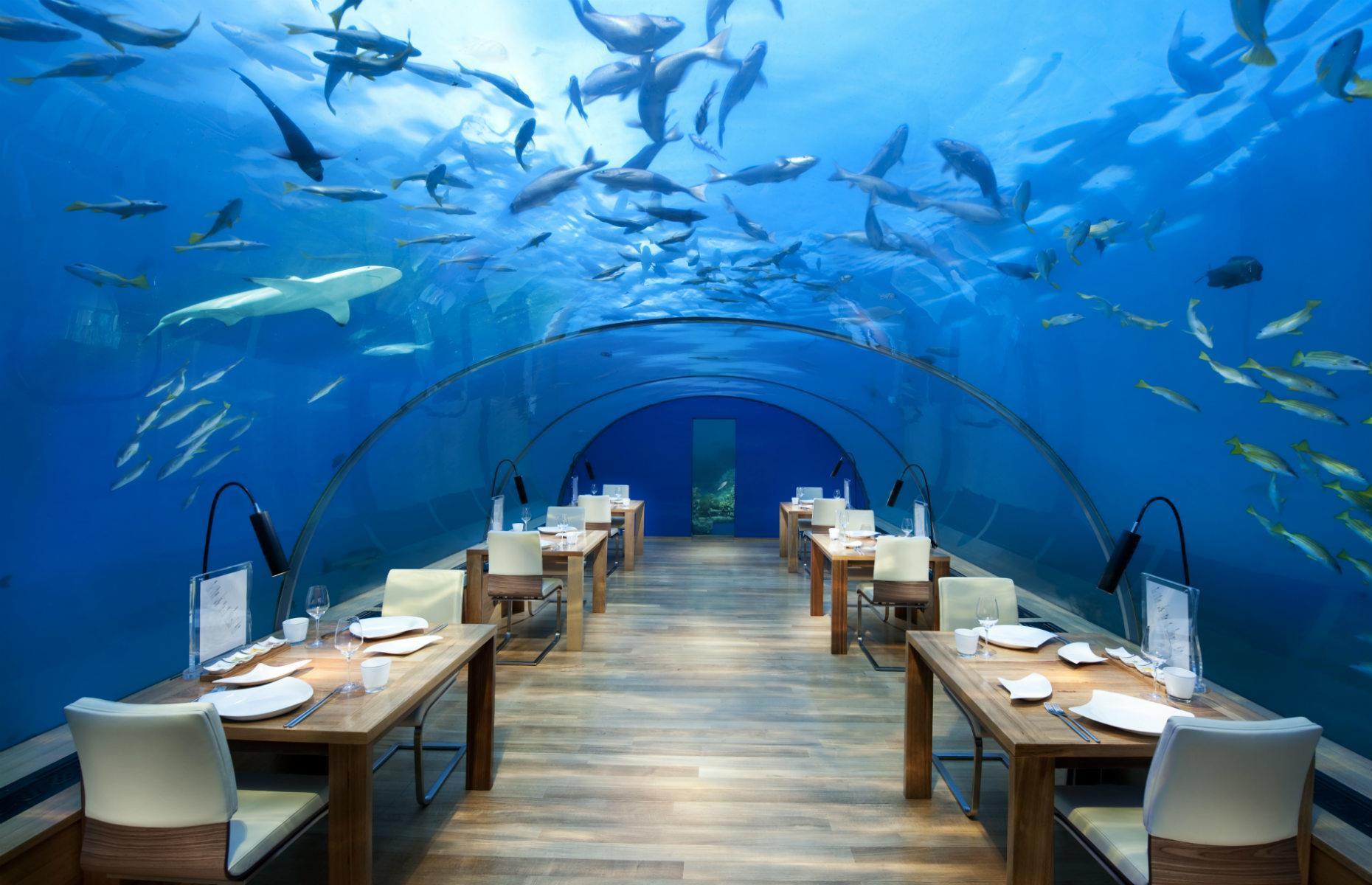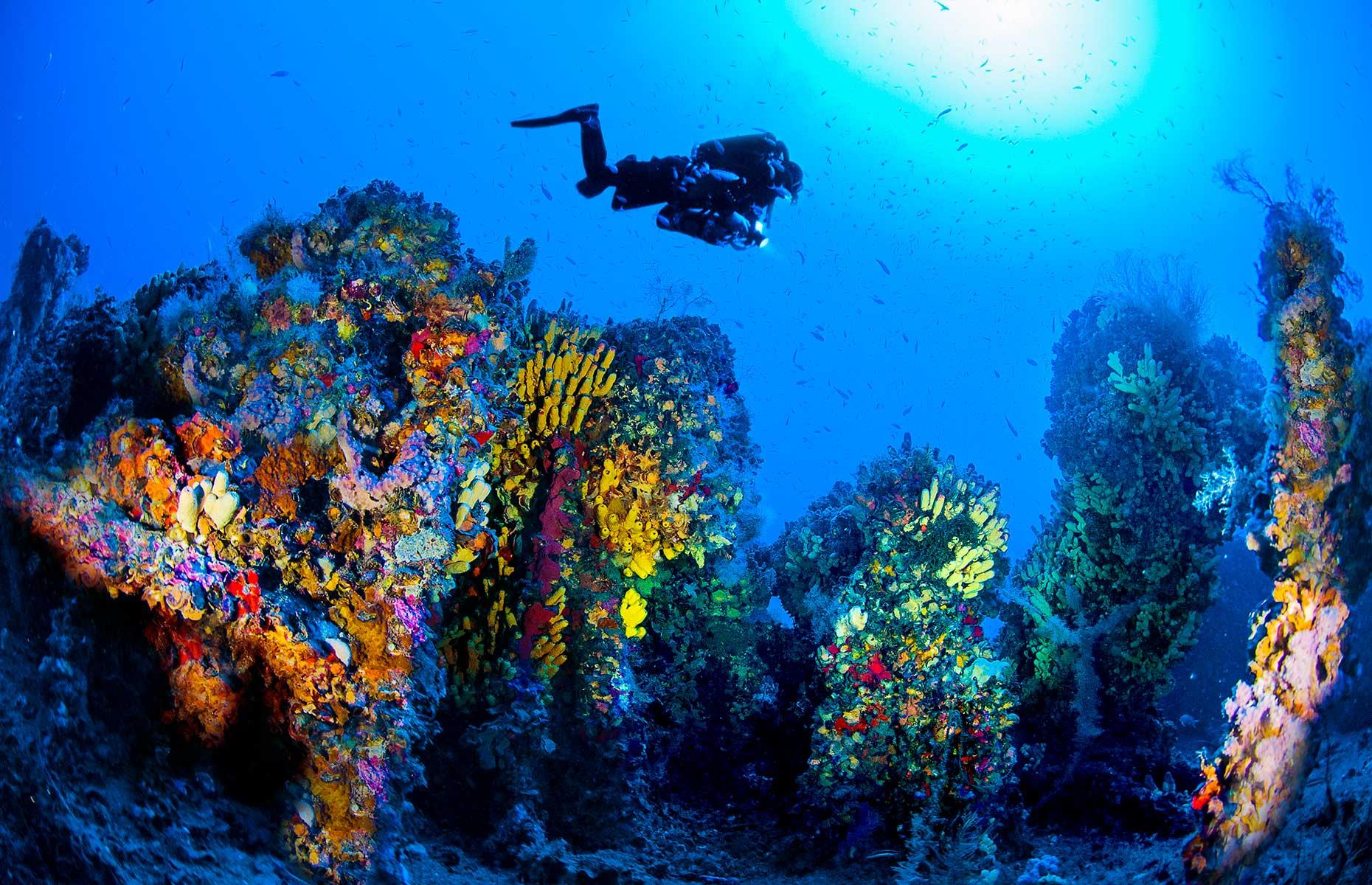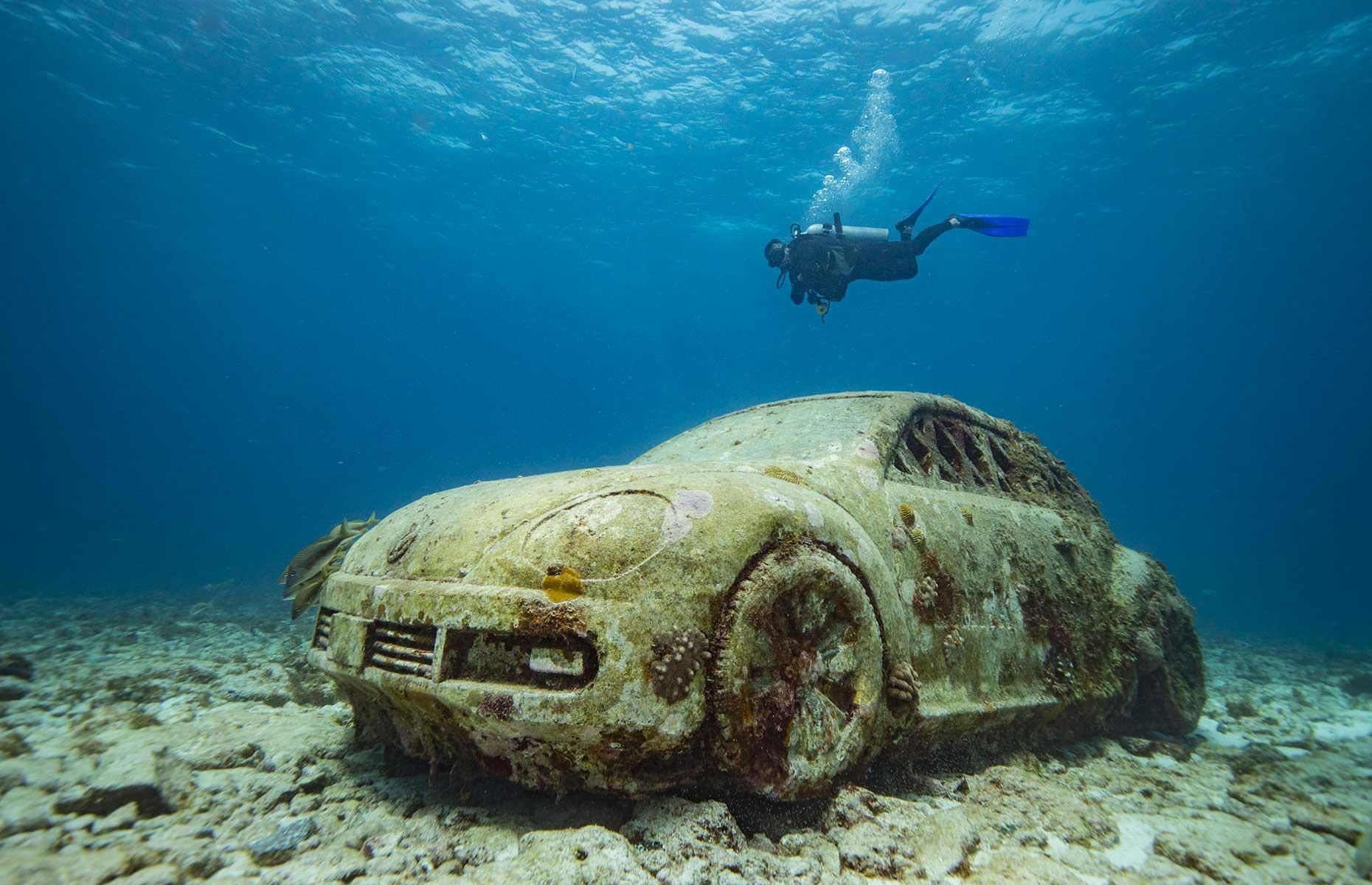 These places really make a splash
Underwater Sculpture Park, Grenada, Caribbean
The first underwater park in the world, by British artist Jason deCaires Taylor, this place set the wave of underwater galleries rolling when it opened in May 2006. It's anchored two miles from Grenada's capital, in the Molinere Beauséjour Marine Protected Area. Here 75 sculptures of both human and still life form – including a ring of children holding hands and the contemplative "Lost Correspondent" sat with his typewriter – dot the sun-dappled seabed. For more on what to do in Grenada, see our island guide here. 
Christ of the Abyss, Italy
Set just off Italy's western coast, near San Fruttuoso, this was the original underwater Jesus statue, a figure whose copies can now also be glimpsed in locations around the world. Now coral-encrusted, the statue – arms outstretched, face raised to the heavens – is eight feet tall (2.4m) and set 56 feet (17m) below the water. The sculpture was created by Guido Galletti and commissioned by Italian diver Duilio Marcante in 1954 to honor his friend and fellow diver Dario Gonzatti who died diving a few years prior.
Underwater military museum, Aqaba, Jordan
Just off the coast of Aqaba on Jordan's Red Sea coast is a surprising collection of military hardware. Tanks, a helicopter and a troop carrier have been sunk and arranged to mimic a battle formation. Lying 50 to 90 feet (15-28m) below the surface the museum opened in July 2019 and usually welcomes both divers and snorkelers. Much care was taken not to disturb marine life during the construction, with any hazardous material and chemicals removed.
The Great Blue Hole, Belize
Set 60 miles from the coast of Belize, surrounded by shallow turquoise waters and encircled by an atoll, this perfectly cylindrical sinkhole blinks from the depths like a vast, inky eye. A dazzling sight from above at 1,000 feet wide (304m) and more than 400 feet deep (122m), this is one of the world's largest submarine sinkholes. It was made famous when the explorer Jacques Cousteau filmed it in the 1970s and today the Belize Barrier Reef, of which The Great Blue Hole is part, is a UNESCO World Heritage Site. 
Florida Keys Shipwreck Trail, USA
Stretching from Key Largo to Key West, the 120-mile-long Florida Keys Shipwreck Trail follows a series of notable wrecks from ancient Spanish galleons to more recent military ships. Highlights include the oldest wreck, the San Pedro, which once formed part of a 1733 Spanish treasure fleet. The latest vessel, the intentionally sunk USS Vandenberg, is a 524-foot-long (160m) missile tracker that boasts vast radar dishes.
Cape Tarkhankut's Underwater Museum, Ukraine
Dos Ojos, Mexico
Proving that some of the most incredible underwater experiences don't have to be out at sea, Mexico's Riviera Maya is riddled with a vast network of cenotes – striking sinkholes that plunge deep into the ground. Of these, Dos Ojos (or "Two Eyes", a reference to the cave's double entrance) is one of the most striking, a cavernous cenote between Playa del Carmen and Tulum. While it's usually possible to admire the fish and rock formations that fill the crystal-clear waters of Dos Ojos with snorkeling gear, scuba divers can go further and explore the dark tunnels that lead off from the main pool.
USAT Liberty, Bali
Set in shallow, calm waters just 131 feet (40m) from the northeastern coast of Bali, this wreck site has attracted both advanced divers and snorkelers over the years. Once a supply ship, the USAT Liberty was hit by a Japanese torpedo during the Second World War and ended up stranded on a beach, until in 1963 a volcanic eruption pushed it back into the sea. In the years since, marine life has reclaimed the ship transforming it into an underwater haven cloaked in corals that attract a dazzling variety of sea creatures.
Underwater Post Office, Vanuatu
For many of us a visit to the post office is one of life's more mundane tasks, right? Not so in Vanuatu, where the world's first, and only, underwater post office lurks nine feet (2.8m) below the water's surface just off the coastline in the Hideaway Island Marine Sanctuary. Visitors can snorkel or scuba dive down to the fiberglass postal booth and drop off a special waterproof postcard here, which can then be sent to anywhere in the world.
Shipwreck of the Sweepstakes, Canada
The Great Lakes are said to hold more than 6,000 shipwrecks, most of which have never been accessed by people. One of the most captivating though lies in the shallow waters of Ontario's Lake Huron. Wonderfully preserved, the Sweepstakes is a 19th-century schooner that sank in 1885. Divers and snorkelers can explore the site, however those who don't fancy getting wet won't have to miss out: glass-bottomed boats drift over the site revealing the ship's vast hulk resting hauntingly just below the water's surface.
Orda Cave, Russia
Orda Cave in central Russia stretches for more than three miles making it both Russia's longest cave and the longest in the world made of the mineral gypsum. And it's this mineral that accounts for much of the cave's intrigue: the white gypsum creates a dazzlingly light interior that resembles an underwater cathedral. It filters the water, creating remarkable visibility and the mineral shifts structurally over time meaning the cave gradually rearranges itself over the course of many years.
Hilma Hooker, Bonaire, Caribbean
In an area packed with dive sites, the mystery-shrouded Hilma Hooker is the most fascinating. Originally a cargo ship, it first sank in 1975 but was rescued and – so the story goes – became involved in drug smuggling. It's said it was later found carrying a hefty stash of hidden marijuana. The case went to trial but was never resolved and the ship sank during proceedings in 1984. Now in its final resting place, large tubular sponges have repopulated the hull of the 236-foot (72m) Dutch freighter and barracuda, parrotfish and angelfish are frequent visitors.
Piccaninnie Ponds, Australia
One of South Australia's most striking freshwater diving sites isn't just for those who don scuba gear. Thanks to the water-filtering limestone that encircles it, Piccaninnie Ponds boast a stunning visibility of up to 131 feet (40m) meaning that snorkelers get to see a lot here too. Starting as a shallow lake, the water gradually reaches The Chasm, where snorkelers can drift over the dramatic 115-foot (35m) sheer-walled, algae-coated canyon. Scuba divers can go on to explore the Cathedral, a spectacular underwater cavern surrounded by gleaming limestone walls.
Underwater Suites at Atlantis, Dubai
Dubai is famed for its ability to dream up the impossible, so it shouldn't really come as a surprise that it's home to one of the most unique places to stay in the world. The Palm's five-star Atlantis hotel is renowned for its aquatic attractions – it has a water park and an aquarium – and adding to that watery roster are its underwater suites. Guests can wake up to a marine world of lurking sharks, kaleidoscopic schools of fish and swooping stingrays, all projected onto floor-to-ceiling windows.
Ginnie Springs, Florida, USA
Ginnie Springs' water clarity is legendary making it a highly popular freshwater diving site. Located on the Santa Fe River, in High Springs, Florida, the highlight of a dive is The Ballroom, a large cavern filled with turquoise water that's dazzlingly illuminated by sunlight filtering through the entrance. Just beyond this, more experienced divers can explore the Devil's Springs, the gateway to a maze-like cave system twisted with more than 30,000 feet (9,000m) of passages. See Ginnie Springs Outdoors for the latest information about the site's opening arrangements too. 
Shark and Yolanda Reef, Egypt
Set in the Ras Mohammed National Park, the diving at the southernmost point of Egypt's Sinai Peninsula is some of the best in the Red Sea. Shark Reef is an area abundant in reef fish, which dive between gorgonian fans and colorful corals, and larger fish like sharks and rays. Just beyond this is the unusual sight of the Yolanda shipwreck, a cargo ship that was carrying ceramics when it grounded in 1980. Strewn around the ship are a bounty of rust-speckled toilets and bathtubs that litter the surrounding seabed.
Neptune Memorial Reef, Florida, USA
This underwater cemetery lies just off Florida's Key Biscayne. Around 40 feet (12m) below the water's surface, the structures have been modeled on Atlantis, complete with a majestic entrance guarded by lions. The cemetery is still expanding, initially holding 850 "placements" (cremated remains mixed with concrete molded into marine shapes) with plans to eventually cover 16 acres of once-barren ocean floor, transforming it into the largest ever man-made reef.
Yonaguni Monument, Japan
One of the world's most mysterious underwater sites, the Yonaguni 'Iseki' stones have divided opinion since their discovery in 1987. Off the remote island of Yonaguni, at a depth of 82 feet (25m) lurks what appears to be a vast prehistoric structure: huge rock slabs carved at right angles and shaped into a pyramid. To some, this is the workings of nature, the result of an area known for its tectonic activity. To others, these are the remains of a Japanese Atlantis, an ancient city that sunk after an earthquake about 2,000 years ago.
Silfra Fissure, Iceland
This place offers divers something utterly unique: the chance to swim between two continental plates. Formed in 1789 by an earthquake, the fissure between the North American and Eurasian plates is filled by a mix of underground spring water and pure glacial meltwater, which results in sparkling underwater visibility. Set in Iceland's Thingvellir National Park, this is a living site, with the chasm widening by 2cm each year and the shifting earth creating new caverns and tunnels. Four to six-hour tours are available from Reykjavík, but see Arctic Adventures for the latest availability. 
RMS Titanic, The Atlantic Ocean
The most famous shipwreck of all time, the RMS Titanic has rested two miles below the Atlantic since its fateful maiden voyage in 1912. Launching in 2021, experience company OceanGate will be taking a limited number of guests and crew on a live scientific expedition to capture the first-ever 4K images of the Titanic. In August 2019, divers explored the wreck for the first time in 15 years and discovered that it's deteriorating from bacteria and salt corrosion. The starboard side of the officer's quarters has disappeared and the divers predict it won't be long before the entire ship is lost. Uncover the secrets of the Titanic here.
Huvafen Fushi spa, the Maldives
The Maldives is getting rather good at underwater firsts – it was home to the world's first underwater restaurant back in 2005, and now is also the site of the first spa to offer subaquatic treatment rooms. Part of the luxury Huvafen Fushi resort, this spa has two rooms where guests can enjoy a signature treatment (using products with an emphasis on sea minerals, of course) while taking in views of the surrounding ocean depths swirling with rainbow-colored fish and elegantly twirling manta rays. The hotel is scheduled to reopen on 1 October 2020.
Green Lake, Austria
During the winter Austria's Green Lake is just that, a small, relatively shallow lake set in a park that offers a number of scenic hiking trails. Yet every summer something strange happens here. Snowmelt from the surrounding Karst Mountains floods the park, transforming it completely into a vast body of water that envelops 43,000 square feet (4,000sqm). Submerged in 39 feet (12m) of crystal-clear water are trees, benches, bridges and footpaths, creating an underwater world that's suddenly off-limits to anyone without diving gear.
The Grotto, Canada
Located in Tobermory – the scuba diving capital of Canada – this underwater attraction is one that snorkelers can typically enjoy too. Set in the Bruce Peninsula National Park, the Grotto is tucked at the edge of Indian Head Cove, a site that requires a 30-minute hike, which ends in a bit of a shimmy down the rocks, to get there. The Grotto is a stunning sight, a deep turquoise pool set in an expansive stretch of swirling azure hues. For divers, the Grotto can be explored even further; two entrances lead to a sunken cavern submerged in 20 feet (6m) of water. Thinking of visiting? Check out the Bruce Peninsula National Park and Fathom Five National Marine Park Facebook page for the latest on the park's opening arrangements. 
Chuuk Lagoon, Micronesia
One of the world's best Second World War wreck dive sites, Chuuk Lagoon (formerly named Truk Lagoon) was a stronghold of Japan's Imperial Navy, which in February 1944 was bombed into oblivion in a surprise attack. The remains of the event now dot the ocean floor forming a coral-encrusted ghostly collection of over 50 ships and around 260 aeroplanes. Among the shattered hulls, rusted artillery and discarded ammunition are prowling reef sharks and iridescent gatherings of visiting fish.
Coron Bay, Philippines
Coron Bay, off Palawan island, holds some of the world's best-preserved Second World War wrecks. Like Chuuk Lagoon, this was the site of a US bombing campaign against the Japanese, the results of which – half a dozen wartime vessels – now dot the seafloor. The most highly regarded are Okikawa Maru, a 551-foot (168m) long oil tanker, and the Akitsushima, a heavily armed ship complete with a seaplane-launching crane.
Parco Archaeologico Sommerso di Baia, Italy
Not far from Italy's famous Pompeii lies the ruins of a lesser-known city, that of the submerged world of Baia. It's an underwater city of mosaicked floors, intricate frescoes, chiseled statues and the key sites of Villa Protiro and Portus Julius. So what happened here? The city was the victim of bradyseism – the gradual lowering and raising of the earth – a process that means Baia may not remain underwater forever. Pictured are the remains of statues from Emperor Claudius' nymphaeum or grotto. Read on to discover Pompeii's secrets that are only just being uncovered.
Shicheng, China
Often called the "Atlantis of the East", the submerged city of Shicheng lies 131 feet (40m) under Qiandao Lake in China's Zhejiang Province. Unlike its mythical counterpart, Shicheng was intentionally flooded in 1959 to allow for a dam and hydroelectric station. The city was all but forgotten until it was "rediscovered" in 2001 and interest in Shicheng began to grow. This wonderfully preserved 600-year-old city, an architectural time warp of China's Imperial past complete with stonework lions, phoenixes and dragons and five imposing entrance gates is best experienced by advanced divers. Find more rediscovered cities here.
Ithaa Undersea Restaurant, the Maldives
Built in 2005, this place set the benchmark for underwater luxury. At the Conrad Maldives Rangali Island's restaurant Ithaa, the world's first all-glass underwater restaurant, there's no need to worry about booking the best seat in the house – the panoramic windows ensure all 14 guests usually have a magnificent experience. Submerged 16 feet (5m) below sea level, this high-class restaurant promises sophisticated cuisine paired with once-in-a-lifetime ocean views. The Maldives is set to welcome back tourists during July 2020 and you can discover more countries reopening to tourists here.  
HMS Southwold, Marsaskala, Malta
Museo Subacuático de Arte, Mexico
Started in 2009 with the works of Jason deCaires Taylor, this underwater sculpture gallery populated with 500 life-sized sculptures plunged into the waters off Cancún is enchanting. Built with materials to promote marine life, the sculptures are being enveloped in a living reef, taking the pressure off strained nearby sites. The effect is a lost world of coral-encrusted figures including a man slouched on a couch, expectant huddles of people and an abandoned car, all surrounded by shoals of fish.
Check out the world's coolest underwater hotel rooms
Source: Read Full Article