Damaraland has long been at the forefront of environmental conservation in Africa. Animal populations in the area, situated in northwest Namibia within the Kunene region, once faced significant threats from wildlife hunting. However, the tide has turned in recent years, with ecotourism initiatives and community-managed concessions flourishing.
As a result, Damaraland is now poised to grow in popularity with today's travelers, who increasingly are seeking out sustainable tourism opportunities. And as the region's reputation grows, so, too, does the number of accommodations that prioritize eco-consciousness.
Safari operators take notice
A testament to this eco-wave is Ultimate Safaris' upcoming Onduli Enclave. After two years of meticulous planning and another year of construction, the lodge is set to open its doors on Nov. 1.
Onduli Enclave, named for Damaraland's resident giraffes, is the privately serviced and stand-alone villa addition to Ultimate's Onduli Ridge; it is separate from the main lodge and will be run independently from it. Onduli Enclave seamlessly integrates with its natural surroundings, offering panoramic views of prominent landmarks like the Brandberg mountain and Doros Crater from virtually every corner, be it the bed, the desk or even the bathroom.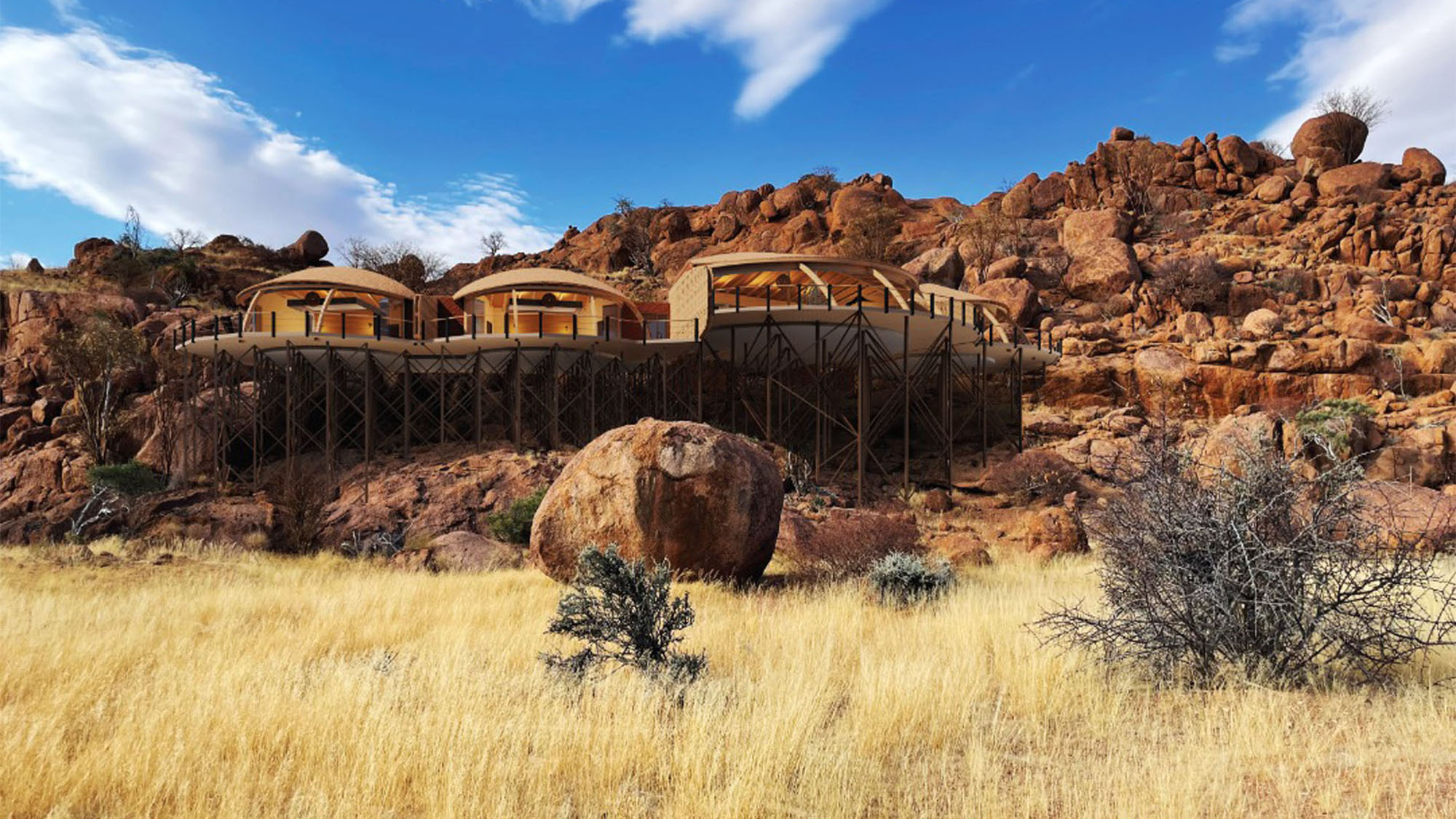 The Enclave promises to provide a luxurious experience for guests, with three fully climate-controlled suites, each equipped with beds that can be rolled onto private decks for stargazing, and amenities like private sun decks, wood-fired hot tubs and an in-house chef and butler. But sustainability shares the spotlight at the Enclave, which will be 100% solar-powered, with a strong emphasis on water reclamation.
Ultimate Safaris isn't the only player in the game. Wilderness Safaris, known for its ecolodges across Africa, also offers accommodations in Damaraland.
Once-in-a-lifetime adventures
What is drawing
travelers to Damaraland are the once-in-a-lifetime experiences that
these eco-establishments offer. At Onduli Enclave, travelers can track
desert-adapted elephants, a rare subgroup of African elephants that have
modified their behaviors to survive in Damaraland's semi-desert
conditions. At Wilderness Safaris' Desert Rhino Camp in Damaraland,
travelers can engage with the Save the Rhino Trust Namibia to help
endangered black rhinos.
For those keen on cultural immersion, interactions with communities
such as the Himba and Damara tribes are incredible experiences. These
tribes and their rich traditions and lifestyles have remained largely
unchanged for centuries, offering a glimpse of Damaraland's from days
gone by. These cultures' sustainable ways of living, perfected over
generations offer an example of how we can live in nature today.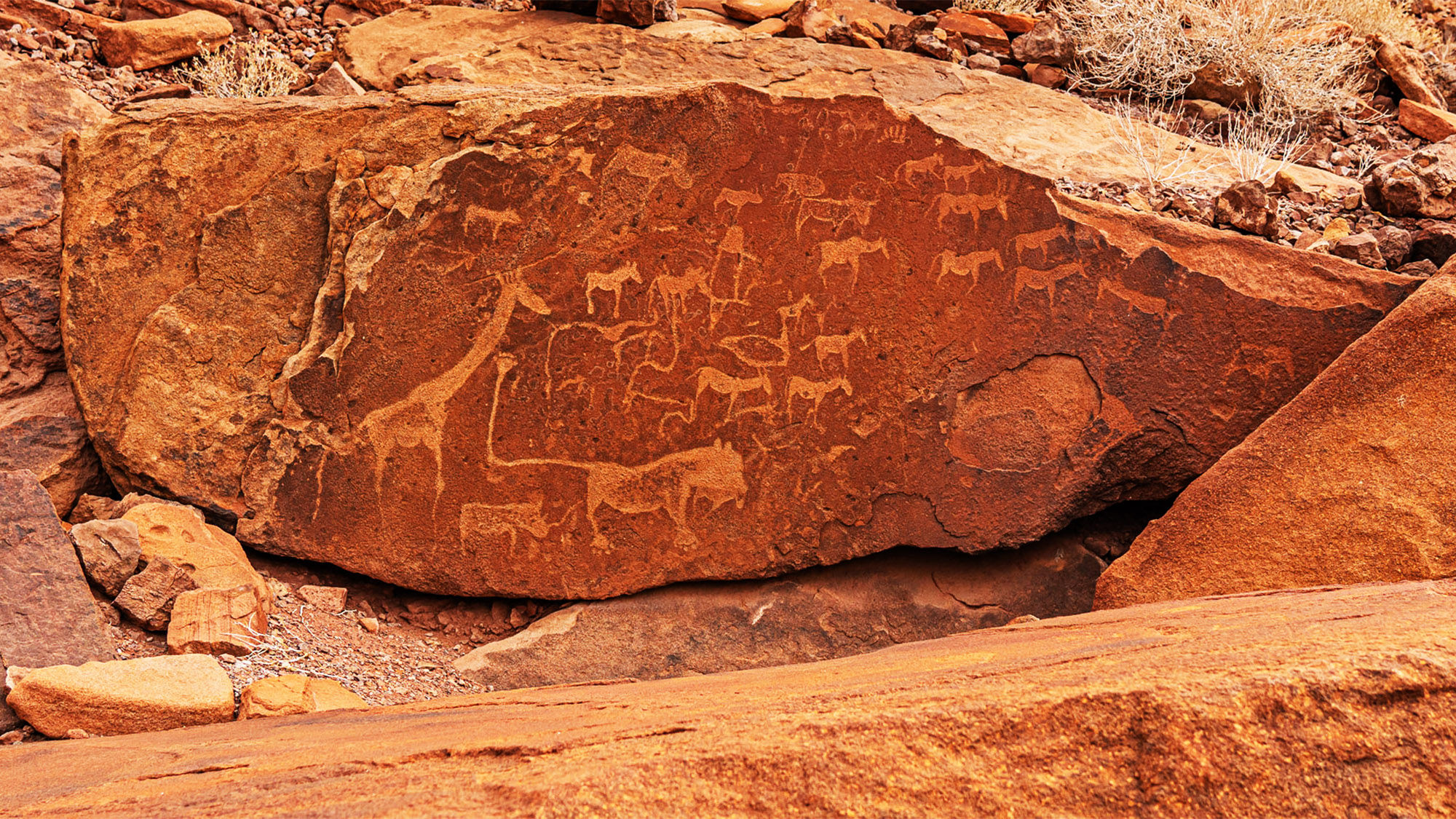 The rocky outcrops of Twyfelfontein,  a Unesco World Heritage Site,
feature exceptional Bushmen engravings that are considered to be some of
the best-preserved etchings on the continent. Often referred to as the
greatest outdoor art gallery in the world, Twyfelfontein is home to
about 5,000 carvings and paintings, created some 6,000 to 10,000 years
ago by Stone Age and later Khoikhoi hunter-gatherers who lived in the
area. Depicting animals ranging from giraffes and lions to seals and
flamingos, the site also has several human figures and geometric
imagery.
The Petrified Forest is also definitely worth a visit. The name is a
bit misleading as it is not exactly a forest that turned to stone but
rather an accumulation of fossilized tree trunks about 280 million years
old. Scientists found out that these trunks haven't grown in today's
Namibia but were washed down a river in ancient times when one of the
many Ice Ages ended on the Gondwana continent.
Source: Read Full Article